Cambodian pork sandwich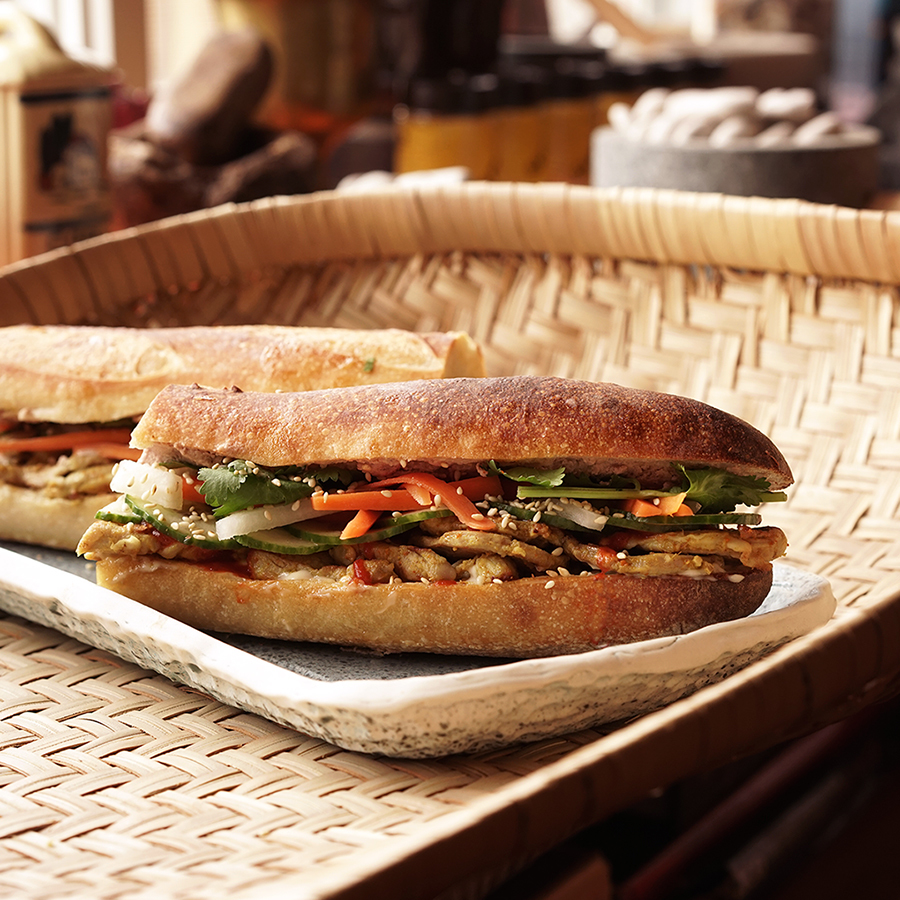 Cambodian street vendors offer num pang, a sandwich that closely resembles Vietnamese banh mi. The simplest version is made using only pâté and a sprinkling of garnishes. We added pork marinated with spices and sesame, along with a hint of hot sauce. Feel free to create a version according to your own taste!
If you can find banh mi or num pang bread (white bread with a crumbly crust), it would be ideal for this sandwich. If not, a good old-fashioned baguette would do just fine.
Marinated vegetables
1 large carrot
1 large piece of daikon (approximately 1 cup, once sliced)
1 Tbsp salt
2 Tbsp sugar
½ cup sugar
½ cup hot water
½ cup rice vinegar
Pork Sandwich
1 pork filet
2 garlic cloves
1½ Tbsp fish sauce
2 Tbsp Layover in Cambodia spice blend, ground
¼ tsp salt
1 Tbsp vegetable oil
4 Tbsp sesame seeds
4 banh mi breads or 1 baguette
4 oz liver pâté
6 Tbsp mayonnaise
Sriracha Sauce, to taste
¼ cucumber, thinly sliced
1 cup marinated vegetables
Fresh coriander stems
Marinated vegetables
1

Peel the carrots and daikon. Cut into 2 ½ inch X ¼ inch X ¼ inch sticks.


2

Place in a bowl with 1 Tbsp salt and 2 Tbsp sugar. Massage the vegetables by applying pressure to soften them and to extract their water.

3

Allow the vegetables to lose their water for 5 minutes.

4

Pour ½ cup of sugar and ½ cup hot water into the bowl. Mix well until the sugar is dissolved. Add vinegar.

5

Rinse the vegetables under cold water, drain and place them in a jar. Pour the vinegar preparation into the jar. Marinate for a few hours or overnight before using. This marinade can keep for 4 weeks, refrigerated.
Method
1

Cut the pork filet into thin ¼ inch slices.

2

Grate the garlic finely into a bowl. Add fish sauce, 2 Tbsp water, spices, salt and vegetable oil. Mix well. Incorporate the meat and marinate (from 10 minutes to a few hours).

3

Heat a pan on medium and toast the sesame seeds until golden. Set aside.

4

Put the pan back on the heat, then one by one arrange the pork slices so they don't touch and grill. If you work quickly, once the last slice has been placed, the first one should be ready to be turned over. If necessary, add some more oil. Grill on both sides then set aside on a plate. Repeat until all the pork slices are cooked.

5

Cut the bread in two. Spread mayonnaise on one side and the liver paté on the other.

6

Place the cooked pork on the side of the mayonnaise. Add Sriracha sauce, to taste. Add cucumber slices, marinated vegetables, sesame seeds and coriander stems.

7

Close the sandwich and serve.