Caramelized Vanilla Pork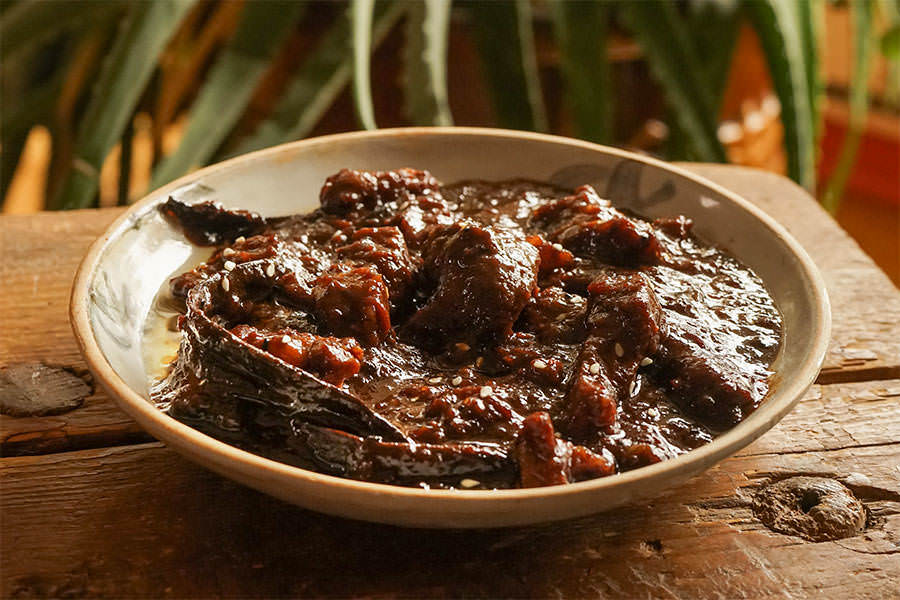 Savory and succulent pork seasoned in vanilla. Delicious on the day it's prepared. Better still on the following day. 
Ingredients
5 large onions
3 Tbsp Sunflower oil
8 cloves garlic
3½ lbs pork, cut in strips
2 large Vanilla beans
5 oz. sugar
6 tsp sesame seeds
1 Tbsp sesame oil
4/5 cup soya sauce
2 cups water
Method
1

Peel onions and garlic and cut into strips.

2

In a large pot, heat sunflower oil on medium heat. Add garlic and onions. Cook until they begin to brown.

3

Add pork and increase the heat. The meat will render water. Allow this water to evaporate somewhat by stirring occasionally. The onions and garlic will caramelize, which will help to thicken the sauce.

4

With a sharp knife, split the vanilla beans in two. Scrape seeds and add to pot with the beans.

5

When most of the water has evaporated, add the sugar and lightly caramelize the meat.

6

Add the soya sauce, water and the sesame oil.

7

In a pan coated with Teflon, grill the sesame seeds. Add them to the pot.

8

Let stew for another 15 minutes.