Sanath's Curried Squash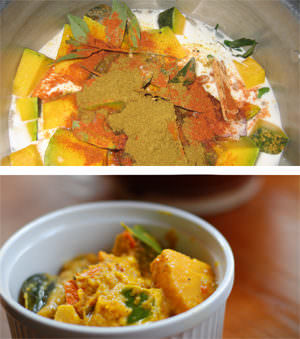 ''The best curry ever'', according to our Sri Lankan cinnamon producer.
Sanath is our Sri Lankan cinnamon producer, more important however, he is our friend.  On our last visit to Sri Lanka we had the pleasure of eating this delicious recipe which also happens to be one of the simplest curries we have ever come across. The quantities may appear generous, but trust us, everyone will be back for seconds, and in any event this dish is even better when reheated.
Serve with rice.
Ingredients
12  cups cubed squash
1 liter coconut milk
3 Tbsp Sri Lankan Red Curry
4 shallots, chopped
2 garlic cloves, chopped
2 slices of ginger, chopped
20 fresh curry leaves
1 cinnamon stick (about 5cm)
1 tsp turmeric, ground
Salt to taste
Hot chillies to taste
Method
1

Remove the thick cream on the top of the coconut milk and set aside.

2

Pour the coconut milk into a large pot.  Add all the remaining ingredients and enough water just to barely cover the ingredients.

3

Bring to a boil.  Reduce the heat and let simmer gently.  Stir carefully with a wooden spoon from time to time so as not to break up the cubes of squash. Do not cover.

4

Cook until the squash is tender, about 20 to 25 minutes.

5

Add the coconut cream and salt if necessary.