Nyonya Shrimp Curry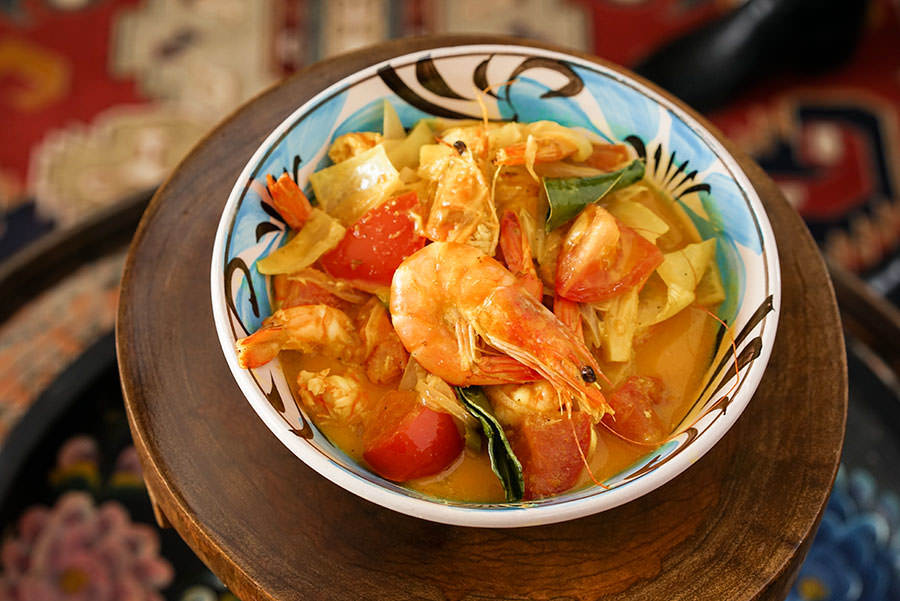 If you use cooked shrimp, don't let them poach more than a minute or two, just enough to heat them through.
Ingredients
1 lb peeled shrimp
½ cup lime or lemon juice
1 tsp salt
1 tsp pepper
4 Tbsp coconut oil
6 shallots, sliced
Fresh hot chile to taste
1 Tbsp galangal or ginger, grated
1 tsp turmeric, ground
2 cup coconut milk
½ tsp cumin, ground
½ tsp fennel seed, ground
½ tsp coriander seed, ground
3 kaffir lime leaves or lime zest
2 medium onions, sliced into sixths
2 tomatoes, sliced into sixths
Method
1

Rinse shrimp, drain well and place in a bowl with lime, salt and pepper, 

2

Pour oil into a pot on low heat and gently cook shallots, chile, galangal and turmeric for 10-15 minutes until melting. 

3

Add coconut milk, cumin, fennel, coriander, lime leaves and onion segments. Bring to a boil and simmer for 10 minutes. 

4

Incorporate shrimp and their marinade, then tomatoes. Simmer 5 minutes, until the shrimp is cooked.