Mackerel and Eggplant Curry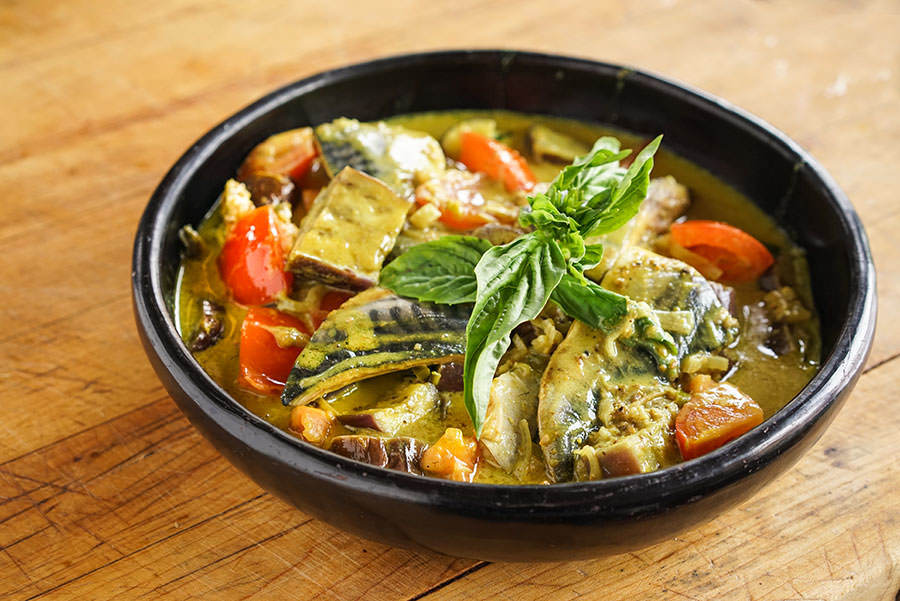 This curry can be made with most fish, or even vegetables for a vegetarian version.
Ingredients
2 Tbsp tamarind
1 lb mackerel filet
1 tsp fennel seed
½ tsp cumin
1 tsp salt
½ tsp black pepper
4 Tbsp coconut oil
6 shallots, sliced
4 cloves garlic, chopped
1 tsp galangal or ginger
Fresh hot chile to taste
1 stalk lemongrass
1 tsp turmeric, ground
1 small eggplant, cubed
1 cup coconut milk
2 tomatoes, sliced into eighths
½ cups basil leaves
Method
1

Soak tamarind in ¼ cup boiling water and set aside. 

2

Rinse mackerel filets and pat dry with a paper towel. Slice in half and place in a bowl. Mash fennel, cumin, salt and pepper in a mortar. Add ¼ cup water. Pour onto the fish and stir. 

3

In a pot on low heat, cook shallots, garlic, galangal, chile and oil for 15 minutes until well-softened. Add lemongrass, turmeric, eggplant, coconut milk, tamarind and soaking water, with a pinch of salt. Bring to a boil and cook 15 minutes more. 

4

Incorporate tomatoes, mackerel and marinade. Poach for 5 minutes. Add basil leaves, stir and, serve.