Caribbean Duck with Pineapple and Rum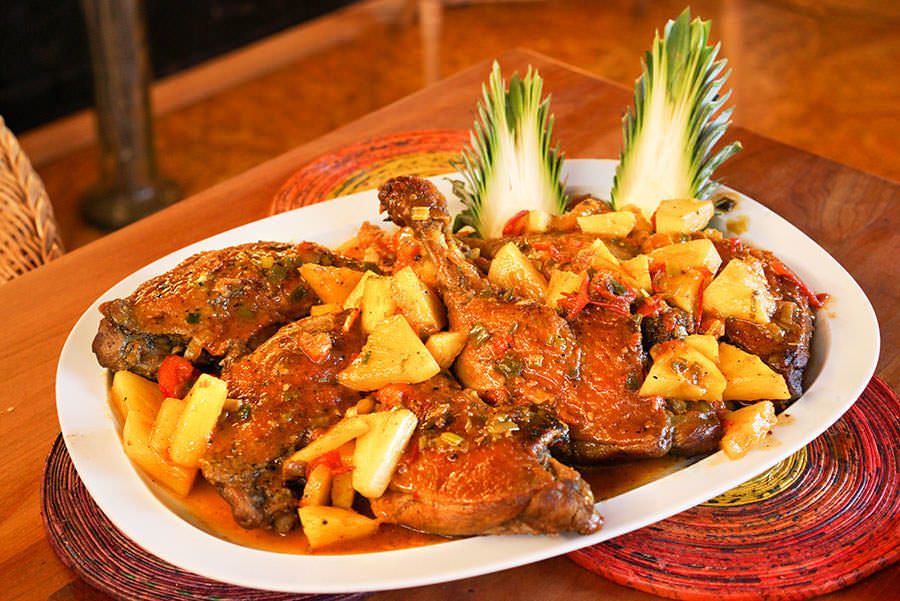 This extraordinary duck recipe comes from the French West Indies. Here we combine sweet pineapple with tomatoes and ginger to season succulent duck thighs.
Ingredients
4 duck thighs
4 tsp Creole Spice Blend, ground
½ pineapple
2 tsp salt
1 Tbsp raw sugar
2 tsp ginger, chopped
1 bunch green onions
Hot chili sauce (West Indian variety is best), to taste
1/3 cup dark rum
2 tomatoes, chopped
Handful of parsley, chopped
Method
1

Season the duck with salt and 3 tsp. of Creole Spice Blend.

2

In a heavy casserole, arrange duck thighs so the skin is facing down. Cover, braise and cook over low-medium heat.

3

Turn over the duck regularly until skin is golden and crispy and the flesh is perfectly cooked and the fat has been melted.

4

While the duck is cooking, peel the pineapple and cut into pieces. Season with 1 tsp. Creole Spice Blend. Set aside.

5

Remove duck from casserole and set aside. Pour melted fat into a bowl.
In a casserole, combine raw sugar and a few spoonfuls duck fat. Place over medium-high heat.

6

Stir constantly until sugar has become caramelized. Add shallots and ginger and cook several minutes more until mixture is evenly golden brown.
Add tomatoes and cook until they begin to fall apart.

7

Pour in rum. Flambé and add pineapple. Bring to the boil. Add duck thighs, cover, and let simmer 15 minutes.

8

Serve garnished with chopped parsley.