Caribbean pumpkin rice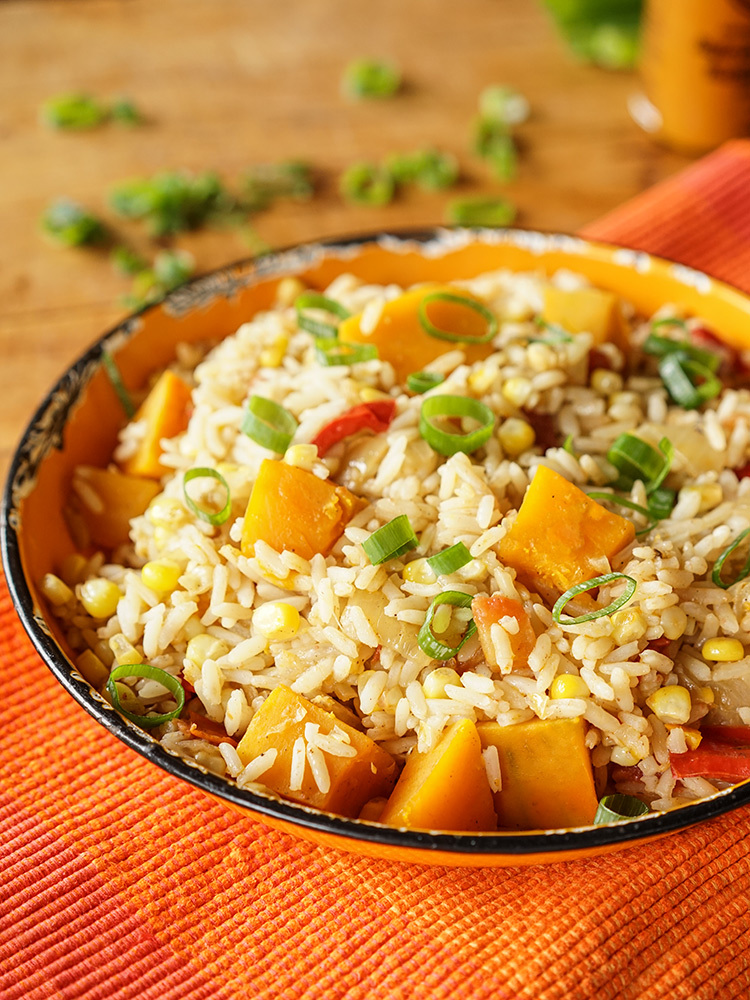 Pumpkins are very popular in many of the island cuisines of the Caribbean and it combines beautifully with spices. If you're looking for a West Indian flavoured meal, serve accompanied by red Creole beans and a simple salad.  
Ingredients
¼ cup olive oil 
1 cup onions, chopped 
1 red bell pepper, diced 
6 green shallots, slivered   
2 cups parboiled rice 
2 Tbsp Caribbean Layover blend, ground
Salt and pepper to taste 
1 cup corn kernels, fresh or frozen
1 medium tomato chopped
3 cups diced pumpkin
2-3 green chopped shallots to garnish
Method
1

Place the oil, onions and pepper in a large casserole on medium heat. Cook, while stirring for 4 to 5 minutes to brown the vegetables. 

2

Add the shallots, rice and spices. Mix well, salt and pepper, then add the corn and tomatoes. Stir well for 1 minute then add 3 cups of water.  

3

Bring to a boil and incorporate the diced pumpkin. Cover and reduce the heat to medium-low. Cook for 20 minutes. Turn off the heat or simply remove the casserole. Let rest another 20 minutes; the residual heat will finish the cooking process.  

4

Serve garnished with chopped green shallots.