Carrots Steamed with Garlic Stems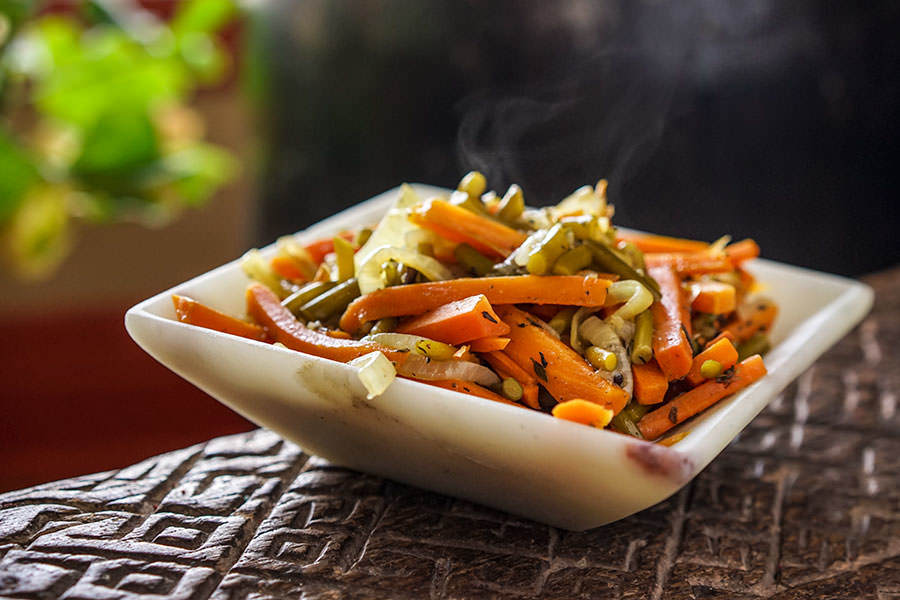 A perfect side for roast meat or even with other vegetable dishes.
Ingrédients
2 lbs carrots
1 bunch garlic stems
4 Tbsp clarified butter or coconut oil
1 Tbsp brown mustard seed
2 medium onions, sliced
½ tsp thyme
1 tsp tarragon
Salt and pepper to taste
A hint nutmeg, grated
½ cup stock or water
2 Tbsp lemon juice
Method
1

Wash carrots and chop into 3-inch sticks.

2

Chop garlic stems into 2-inch segments.

3

Put a thick-bottomed pot on medium heat. Add clarified butter and mustard seeds. When they begin to sizzle, add chopped onions. Stir well.

4

Place carrots and garlic stems in the pot. Add thyme, tarragon, salt, pepper and nutmeg. Add stock and cover. Reduce heat to low after about 5 minutes. Let steam in the pot until vegetables are tender, 15-20 minutes.

5

Let stand a few minutes to cool vegetables, then incorporate lemon juice and serve.