Cauliflower and Potato Tajine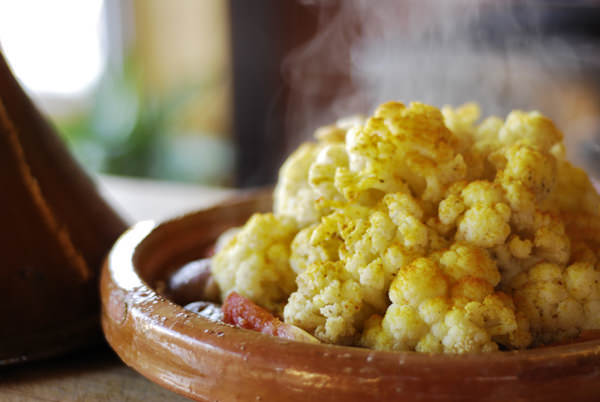 This simple way to simmer vegetables requires very little supervision. Cooking on low heat allows the vegetables to cook in their own juices and retain their flavour. Obviously you should choose your vegetables based on inspiration and the season – however, the principle remains the same.
Place the firm vegetables on a bed of onions, cook on low heat and at the half-way point add the more tender vegetables that have been seasoned.
Ingredients
2 Tbsp butter or olive oil
1 large onion, sliced
1 lb potatoes, quartered
3 tomatoes, quartered
1 small cauliflower, in pieces
1 ½ Tbsp Tajine spices, ground
6 Tbsp melted butter or olive oil
Salt and pepper to taste
Method
1

Place the onions on the bottom of a tajine or a heavy pot with a tight fitting lid with the butter or oil.

2

Place the potatoes and the tomatoes on top.  Add ¼ glass of water.

3

Put the tajine (or pot) on low heat. Cover and cook until steam escapes from the cover (20 to 30 minutes).

4

In the meantime, place the pieces of cauliflower in a large bowl.  Add the spices, the butter, salt and pepper. Mix well.

5

As the steam comes out of the cover, place the cauliflower pieces on the vegetables already in the tajine.

6

Cover and let cook on low heat until the vegetables are soft and tender (20-30 more minutes).