Cauliflower and Romesco Sauce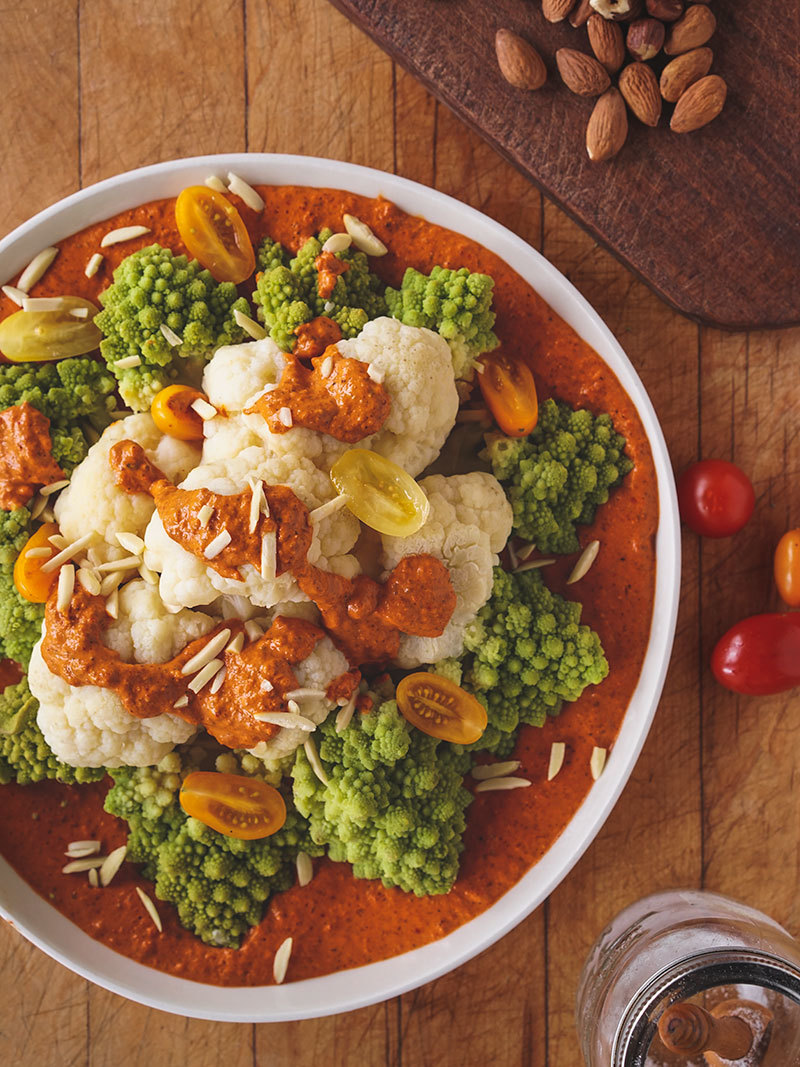 Romesco is a Catalan sauce made with nuts and red pepper. In Spain, it's often served with grilled spring onions; it's also great with grilled vegetables, fish, seafood… in fact, pretty much everything!
Ingredients
1 small cauliflower
1 small Romanesco cauliflower
Slivered almonds, to decorate 
Cherry tomatoes, to decorate 
Romesco Sauce
½ cup almonds
½ cup hazelnuts
2 medium tomatoes
2 red bell peppers
4 cloves garlic, skin-on
4 Tbsp sherry vinegar or red wine vinegar
1 tsp Reshampatti pepper or Cayenne, ground
2 tsp smoked paprika
½ cup olive oil
Salt and pepper to taste
Romesco sauce
1

Place almonds and hazelnuts on two baking sheets and roast in an oven heated to 350 °F, around 6 to 9 minutes, depending on the size of the nuts. Remove and set aside. If you like, place hazelnuts on a rag and rub them to remove the brown skin.

2

Heat a thick-bottomed pan on medium-high. Place tomatoes, peppers and garlic on the pan. Toast on all side until the skin begins to blacken. Remove vegetables when each is well-cooked (around 5 minutes for the garlic, up to 15 minutes for the tomatoes). Let cool.

3

Remove as much blackened skin from the vegetables as possible when they are cooled.

Grind the almonds and hazelnuts in a food processor.

4

Place the vegetables in a food processor and purée. Add vinegar and spices and add oil in a continuous stream until well-incorporated. Taste and adjust with salt and pepper.
Cauliflower
1

Separate cauliflower and Romanesco into small bouquets.

2

Bring a casserole of salted water to a boil.

3

Blanch cauliflower 6 to 7 minutes until tender. Remove with a skimmer and air cool, uncovered in a colander to dry. Avoid rinsing in cold water as cauliflower retains water which will dilute the sauce. Cook Romanesco in same water and dry the same way.

4

Place half the sauce in a dish. Arrange cooled vegetables on the dish, add remaining sauce on top and decorate to your taste.