Cauliflower, Cashew, Carrot Curry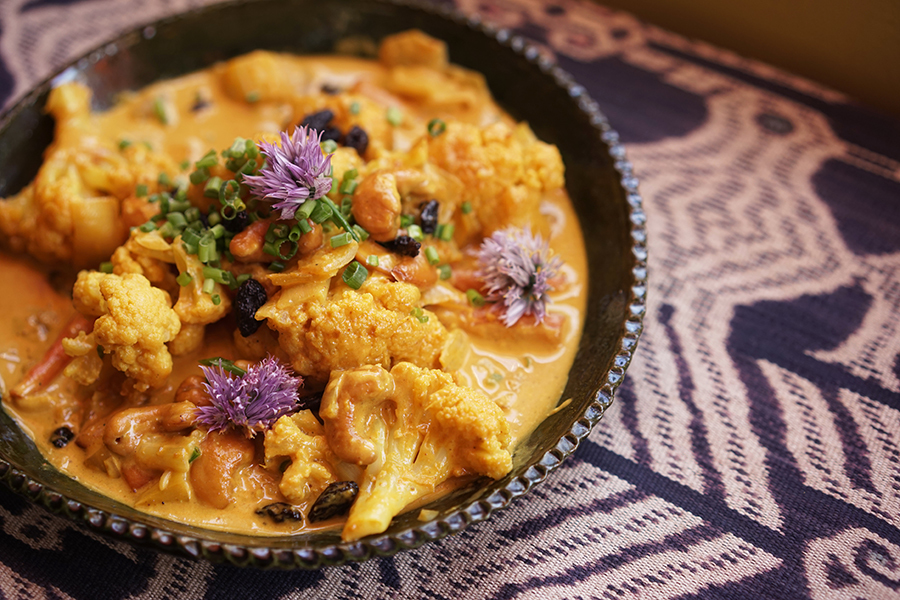 A tasty vegetarian curry that's easily prepared in the blink of an eye! We really like this mild Japanese curry with just a hint of anise in this dish, but actually, any good curry would do the trick.
Ingredients
1 medium cauliflower
5 garlic cloves
2 Tbsp ginger, chopped
1 hot, green chili
3 Tbsp Japanese curry, ground OR 2 Tbsp curry powder
4 Tbsp coconut oil
3 medium onions, chopped
2 Tbsp tomato paste OR 1 fresh tomato, chopped
Salt, to taste
1 lb small carrots
½ cup raisins
2 cups coconut milk
1 cup roasted cashews
Method
1

Shred the cauliflower into bite-size clusters.


2

Place garlic, ginger, chili, ground curry and ¼ cup water in a blender and reduce to a paste.

3

Heat a large casserole on medium. Sauté the onions lightly in oil for 2 to 3 minutes without browning.


4

Incorporate the curry paste and sauté for 1 to 2 minutes. Add the tomato paste. Mix well and steam for 1 minute.


5

Add the cauliflower and mix well, covering each cluster with the spice paste.


6

Incorporate the carrots and raisins. Add coconut milk, mix and bring to a boil.


7

Reduce the heat, cover and let simmer for at least fifteen minutes, until the vegetables are crispy or soft according to your taste.


8

Incorporate the cashews and serve.