Cauliflower chokha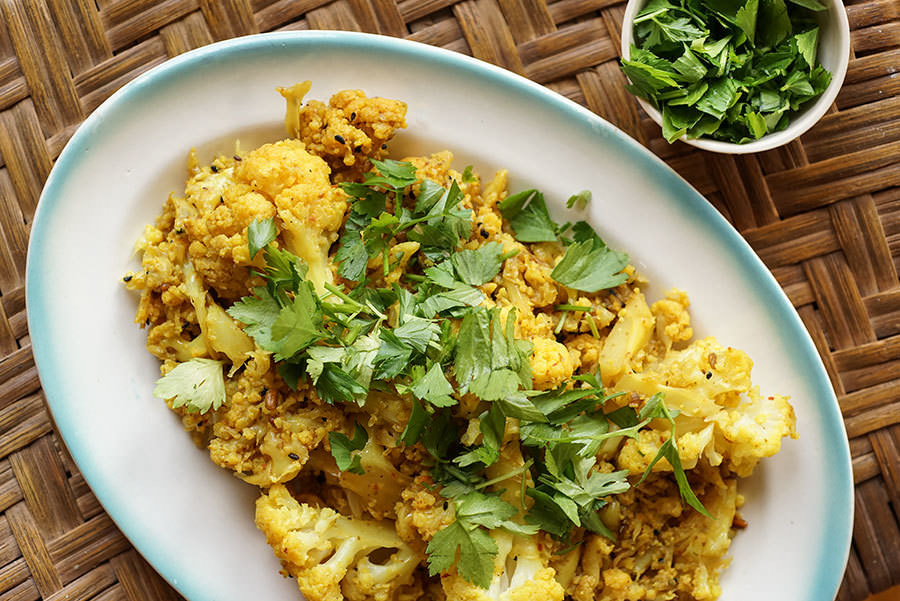 Feel free to make this cauliflower Chokha with Panch Phoran, a Bengali blend, instead of the nigella and fenugreek.
Ingredients
1 small cauliflower
4 Tbsp coconut oil
1 tsp nigella
3 tsp fenugreek
1 small onion, chopped
4 cloves garlic, chopped
2 Tbsp ginger, chopped
1 Tbsp Aleppo pepper
½ Tbsp turmeric, ground
Salt and pepper to taste
½ cup parsley, chopped
Method
1

Divide cauliflower into small florets. Place in a colander and rinse under running water.

2

Heat a pot on medium. Add oil, nigella, and fenugreek. Fry for 5 seconds, then incorporate onion, garlic, and ginger. Sauté 1 minute more.

3

Add drained cauliflower, Aleppo pepper, turmeric, salt and pepper. Stir well, pour in ¼ cup water and bring to a boil. Cover and reduce on low heat. Stir on occasion to ensure the cauliflower doesn't stick. Simmer until the cauliflower is falling apart, around 20-30 minutes. Serve as-is or purée with a whisk.