Channa Jeera Palau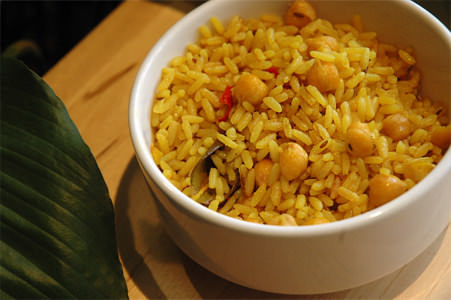 Pilaf ('palau' in Hindi) is a dish in which rice is cooked in a seasoned broth. A rice pilaf with chickpeas ('chana') and cumin ('jeera.')
Ingredients
1 Tbsp cumin
4 Tbsp olive oil
2 Tbsp ghee (clarified butter)
2 cloves garlic, finely chopped
1 onion, chopped finely
1 sweet red pepper, finely chopped
4 cups parboiled rice (ie: Uncle Ben's)
1 Tbsp turmeric, ground
4 cups cooked chickpeas
4 cups stock
2 cups coconut water
1 cup coconut cream
1 West-Indian pepper, whole
Salt
Method
1

In a pot, lightly roast the cumin in the oil and ghee until golden brown.

2

Add the onion, garlic, sweet pepper and bay leaf. Cook 2 minutes.

3

Add the rice. Mix well.

4

Add the turmeric. Mix well.

5

Add the chickpeas, stock, coconut water, whole pepper and salt.

6

Bring to a boil. Lower the heat, cover and steam for 15 minutes.

7

Add the coconut cream. Mix carefully so as not to burst the pepper. Steam for 3 more minutes.

8

Turn off the heat and let rest for 20 minutes before serving.