Char Siu - Chinese Roast Pork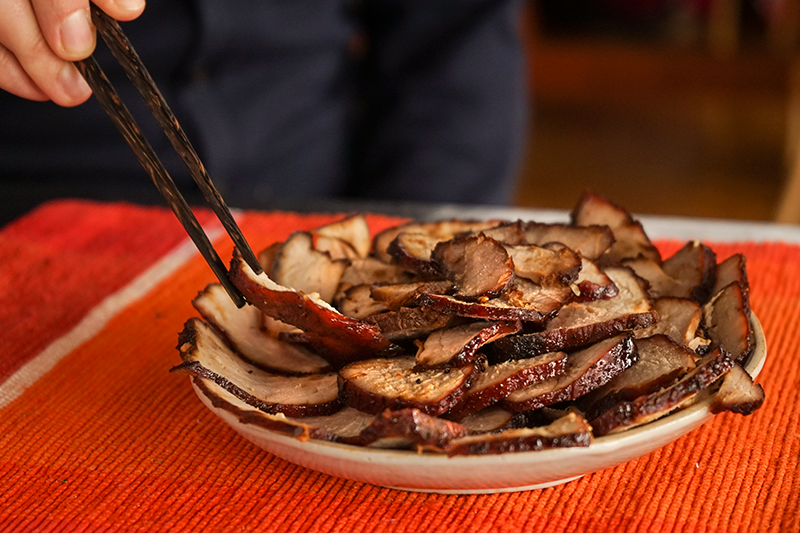 This is one of southern China's most famous foods. It's usually something you'd buy at an Asian grocery or restaurant, but it's actually quite easy to make at home in the broiler.
A great addition to salads, sandwiches, stir-fries, and noodles.
ingrédients
1 piece pork butt (4-5 lbs)
¾ cup honey
¼ cup dark soy sauce
¼ cup light soy sauce
¼ cup oyster sauce
5 Tbsp hoisin sauce
3 Tbsp yellow wine
2 tsp Chinese five spice, ground
½ tsp Salt
Method
1

Slice pork lengthwise into 3 or 4 large pieces about 2-3 inches thick. Poke each piece several times with a fork or small knife.

2

Stir remaining ingredients together in a bowl. Add the pork and marinate for at least 2 hours, or overnight if possible.

3

Set oven to broil setting and preheat for at least 20 minutes. Place rack near the top of the oven.

4

Line a baking tray with aluminum foil. Lay the pork pieces out on the tray, ensuring they are evenly spaced. Set marinade aside. Put the baking tray in the oven, placing the pork as close to the heating element as possible but still leaving gap of 2-3 inches so the air can circulate.

5

Broil for 30-40 minutes, depending on the thickness of the meat. Be sure to baste the pork with the marinade and flip it 5-6 times while it roasts.

6

Insert a knife into the pork to ensure it's cooked through. Remove from oven, rest for 30 minutes, then slice thinly.