Chaufa de quinoa - Fried Peruvian Quinoa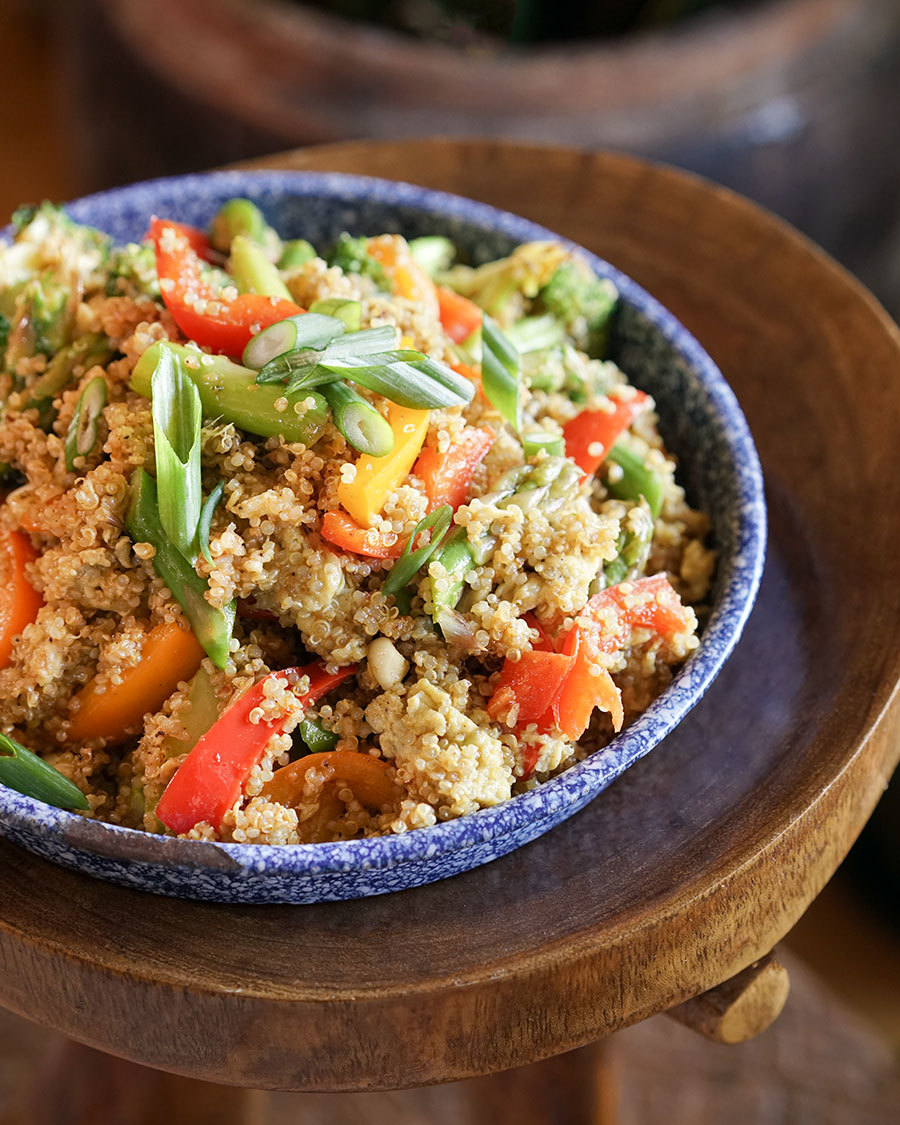 Chaufa rice (or arroz chaufa) is a fried rice dish which fuses Peruvian and Chinese cuisines. This version, using quinoa, is as delicious as the original! 
Feel free to modify the vegetables, depending on the season and personal taste. You can also add leftover meat, poultry or shrimp to the quinoa.
Ingredients
4 cups cooked quinoa
6 green onions
½ broccoli
8 asparagus
1 red bell pepper 
1 yellow bell pepper
1 zucchini
1 small leek
6 eggs
Salt and pepper 
6 Tbsp vegetable oil or olive oil 
4 garlic cloves, chopped 
2 Tbsp ginger, chopped 
2 Tbsp Layover in Peru spice blend, ground 
3 Tbsp soya sauce 
2 tsp sesame oil
Method
1

Separate the quinoa, using a fork.


2

Cut shallot whites into 1-inch sections. Chop the green sections and set aside for a garnish when serving.


3

Cut vegetables into even pieces and place on a platter to easily add to the wok when cooking. 



4

Beat eggs in a bowl with salt and pepper.


5

Heat a wok on medium heat, then pour half the oil and rotate the wok carefully until it's well coated. Pour in eggs and mix to make a soft omelette. Remove eggs and set aside.



6

Pour in the remaining oil, raise the heat to high and sauter garlic and ginger for a few seconds. Add borccoli and spices, sauter another 30 seconds. Continue to incorporate the vegetables one at a time. Cook everything for around 2 – 3 minutes. Add a little more oil if needed.


7

When all the vegetables are hot and begin to cook, incorporate the quinoa and the eggs. Cook another 2 minutes, making sure that everything is uniformly heated.



8

Pour soya sauce and sesame oil into the wok. Mix well then serve garnished with chopped green shallots.