Chermoulah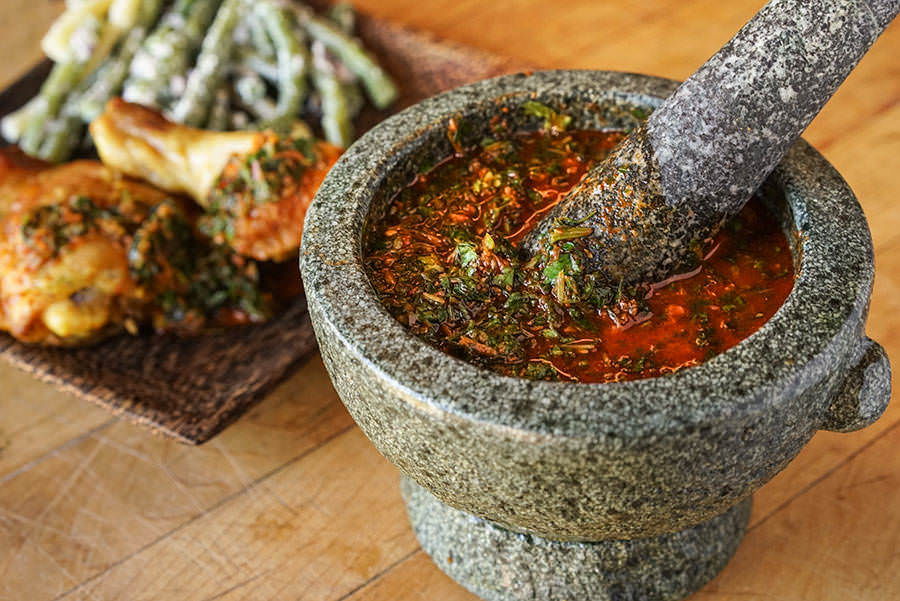 In Morocco, Chermoulah is used like a salsa or even as a marinade for fish and poultry. It tastes better if it's eaten the same day, but it keeps in the fridge fine for a day.
Ingredients
1 Tbsp cumin
½ tsp Reshampatti pepper or Cayenne
4 cloves garlic
1 tsp salt
2 Tbsp paprika or Aleppo pepper
4 Tbsp water
3 Tbsp lemon juice or lemon confit
1 cup cilantro, chopped
½ cup chopped parsley
6 Tbsp olive oil
½ cup boiling water
Method
1

Heat a pan on medium. Toast cumin for 10 seconds and transfer to a mortar. Add chile and grind to a coarse powder.

2

Add garlic and salt. Purée while incorporating paprika, water and lemon.

3

Add cilantro and parsley, then pound while gradually incorporating oil.

4

Pour boiling water over the mixture. Wait 15 minutes before serving.