Cherry Gingerbread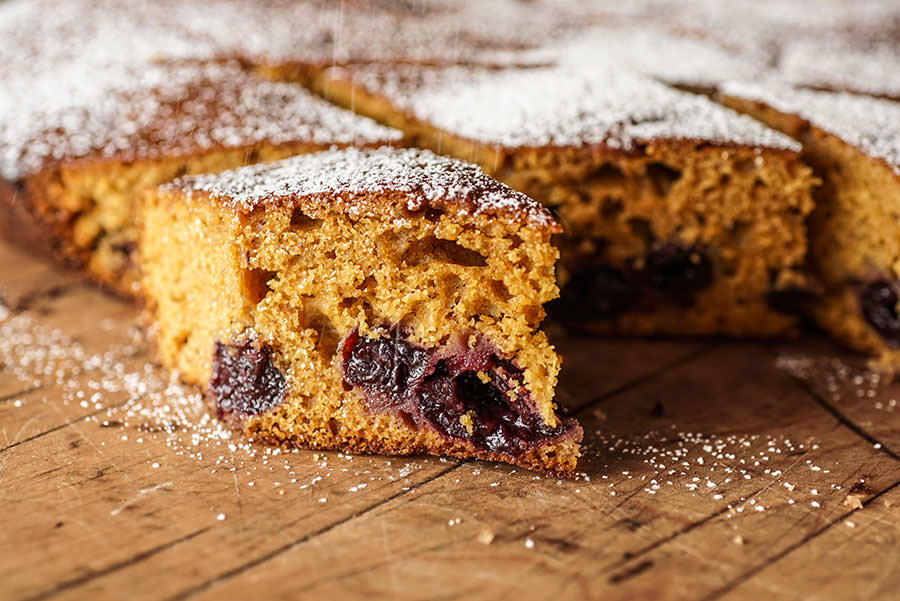 This cake is moist, flavorful, and bursting with ginger. Delicious just the way it is, with a cup of tea or coffee, or even sprinkled with a little powdered sugar or with whipped cream on top.
Ingredients
2 cups pitted cherries (fresh or frozen)
¼ cup sugar
1 Tbsp vanillla extract
½ cup butter
½ cup brown sugar
½ cup milk
¼ cup molasses
2 Tbsp honey
1½ cup all-purpose flour
½ tsp baking powder
¼ tsp baking soda
½ tsp salt
1 Tbsp Gingerbread Spice Blend, ground
¼ tsp nutmeg, grated
2 eggs
1 Tbsp fresh ginger, grated
Method
1

Preheat oven to 350° F. Line a square (8-9 inch) mold with parchment paper.

2

Place cherries, sugar, and vanilla extract in a pot. Bring to a boil, reduce heat to medium and simmer for 10 minutes. Set aside.

3

In another pot, melt butter with brown sugar, milk, molasses and honey. Do not bring to a boil. Mix and let cool for a few minutes.

4

Mix flour, baking powder, baking soda, salt and spices together in a bowl.

5

Beat eggs in a large bowl. Add fresh ginger, then the melted butter mixture. Stir well.

6

Add dry ingredients and incorporate thoroughly.

7

Transfer the contents to the lined mold. Drop the cherry mixture onto the batter in spoonfuls. Run a knife along the batter to create a nice marbled effect.

8

Place in the oven and bake for around 45 minutes, until a toothpick inserted in the center of the cake comes out clean.