Cherry, rhubarb and cinnamon muffins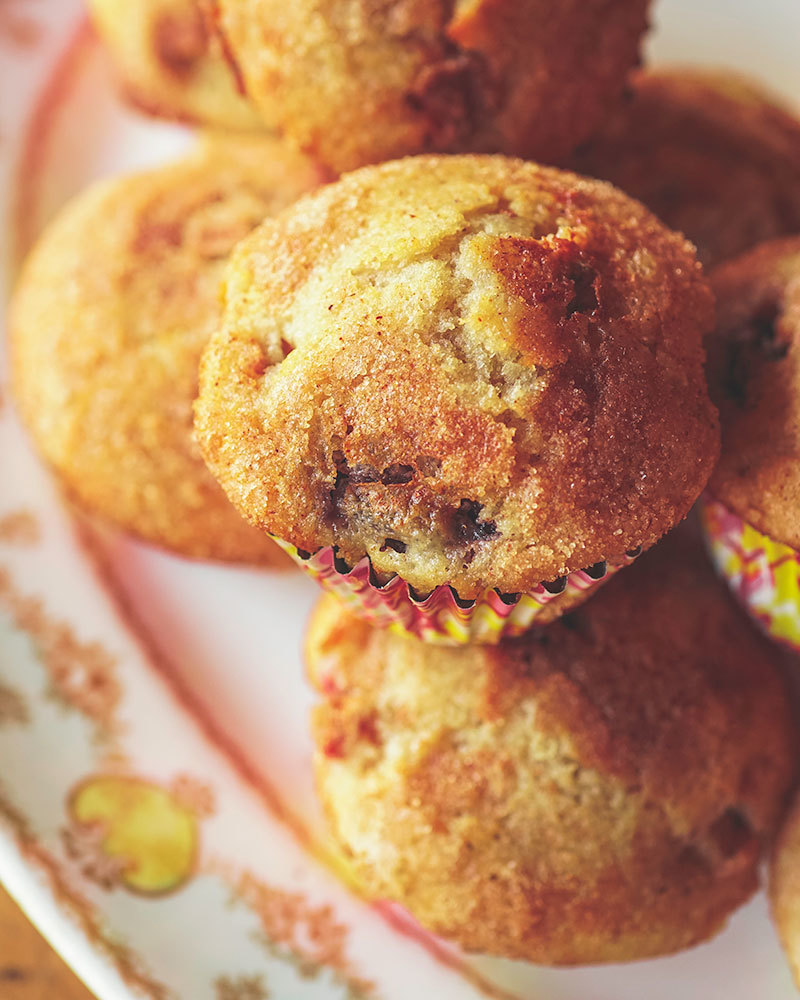 The yogurt and fruit make these pocket cakes so soft that they won't become dry – even when served the following day. On the other hand, they are at their best when eaten still warm from the oven. Makes 24 pocket cakes.
Ingredients
4 cups all-purpose flour
1½ cup sugar
5 Tbsp baking powder
1 tsp baking soda
¼ tsp salt
2½ tsp cinnamon, ground
2½ cups yogurt
1 cup unsalted butter, melted and cooled
4 large eggs
2 tsp vanilla extract
1½ cups rhubarb, cut in cubes
1½ cup unseeded cherries, cut in two
Garnish
Method
1

Place the grill in the middle of the oven and pre-heat to 400 °F.

2

Grease and flour 24 muffin molds. 

3

Place the flour, sugar, baking soda, bicarbonate of soda, ground cinnamon and salt in a large mixing bowl and mix well. 

4

In a medium mixing bowl, add yogurt, melted butter, eggs and vanilla and blend until homogenized.


5

Pour the liquid blend into the dry ingredients, combining delicately using a spatula. Avoid over mixing. 

6

Slowly incorporate the rhubarb and cherries into the mixture and pour into the greased and floured molds. Evenly spread the mixture using the back of a spoon or a spatula. The batter should barely overflow the sides of the molds.

7

Combine the sugar and cinnamon in a small bowl and mix well.





8

Before placing in the oven, sprinkle each pocket cake with ½ tsp of the sugar-cinnamon blend. 

9

Cook the small cakes for 18 to 22 minutes, or until they become golden, and a toothpick, placed in the center, is clean when removed – or if there is a springy feel when pressed with your fingers.  

10

Transfer the mold onto a grill and let rest for 5-10 minutes. 

11

Delicately remove the pocket cakes from the molds (insert a small knife blade, between the cakes and their molds to remove them, if they stick).