Cherry & rhubarb Cheesecake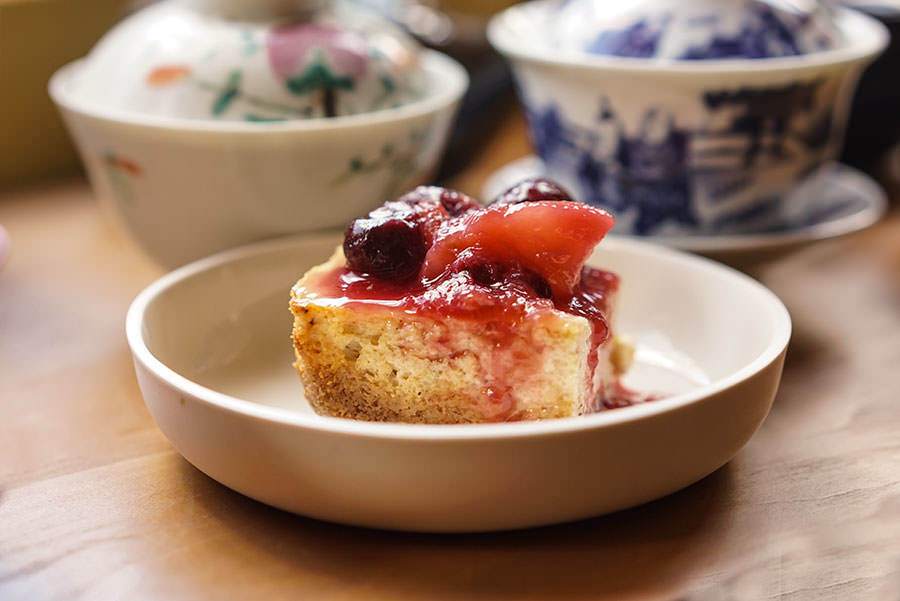 This cherry cheesecake recipe comes from our colleague Tharshini. The addition of spices reveals her Sri Lankan touch and famously spicy personality.
Cherry & rhubarb garnish
2 cup pitted cherries
2 cups rhubarb, chopped into ½-inch pieces
4 pears, sliced into 8 quartered
2 cups sugar
1 Tbsp vanilla extract
2 tsp sapote, grated
Pie Crust
2 cups graham cracker crumbs
½ cup + 2 Tbsp melted butter
2 Tbsp sugar
Cake
4 containers cream cheese (25og / 8oz)
1 cup sour cream
2 cups sugar
4 eggs
1 Tbsp mulling spices, ground
Method
1

Preheat oven to 325 °F.

2

Place all garnish ingredients in a thick-bottomed pot. Heat on medium and simmer for around 20 minutes. Set aside and let cool.

3

Mix all crust ingredients together in a bowl. Spread into a 13x9-inch rectangular mold or 11-inch round mold and press down until even and flat. Set aside.

4

In another bowl, whip sour cream and cream cheese with sugar. Add eggs one at a time, then spices, stirring constantly.

5

Pour cheese mixture into the crust and bake for 55 minutes.

6

Let cool one hour, then refrigerate at least 6 hours.

7

Pour the garnish on top and serve.