Chettinad Chicken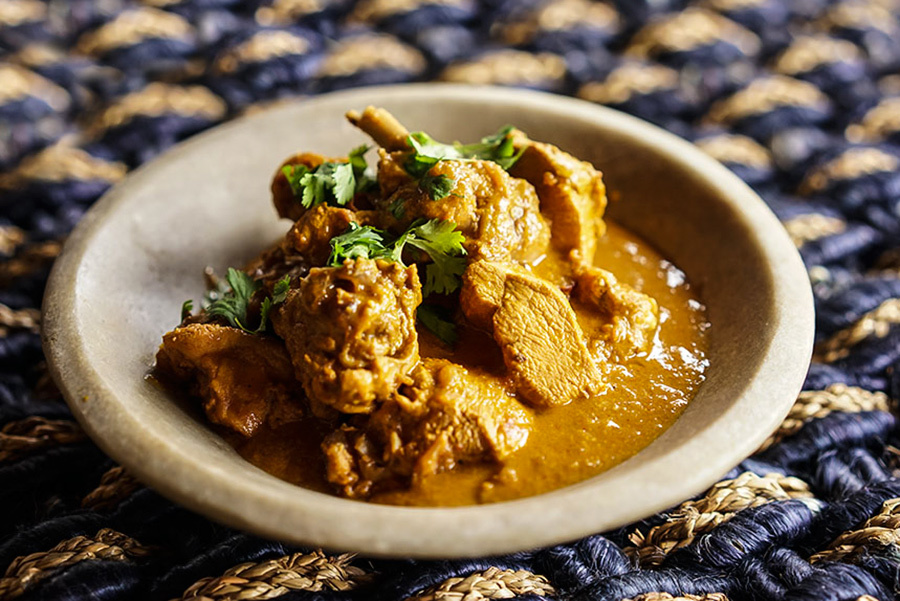 A classic curry from Tamil Nadu, in the south of India. The heat from this curry comes from the sheer quantity of ginger, since pepper and chile are used more moderately in the south of India. We are greatly appreciative to Thiripurasundari, who kindly invited us into her kitchen.
This recipe is less flavorful with a deboned chicken. Chettinad curry is typically served with rice, idly, or dosas. We love them with buckwheat crepes, too- it's not very traditional, but it's easy to make and delicious.
Ingredients
6 Tbsp coconut oil
1 small stick cassia (opt.)
3 large onions, sliced
3 lb chicken, chopped into 1½-inch pieces
1 Tbsp turmeric, ground
1 tsp salt
3 inches ginger
6 cloves garlic
½ cup shallots
3 tomatoes
3 Tbsp Chettinad curry
½ cup grated coconut or 1 cup coconut milk + 50 g creamed coconut
2 Tbsp fenugreek leaves (opt.)
½ cup cilantro, chopped
Method
1

Heat coconut oil in a pot on medium. Sauté onions and cassia until brown and lightly caramelized. This step takes around 20 minutes, and it's important to keep stirring so the onions don't burn, especially towards the end.

2

Meanwhile, skin chicken. Place chicken pieces in a bowl with turmeric, salt, and ½ cup water. Set aside.

3

Chop ginger roughly. Place in a food processor with garlic and purée. Set aside.

4

Chop shallots and tomatoes in a food processor. Set aside.

5

Grind spices finely. Mix into 6 Tbsp water to make a runny paste.

6

When the onions are cooked, chop remaining tomatoes. Cook 2 minutes, until the juice from the tomatoes is evaporated.

7

Incorporate ginger and garlic paste. Cook 2 minutes more.

8

Add tomato paste and shallots and cook 2 minutes more.

9

Drain chicken and add to the pot with a spice paste. Cook 2 minutes and add 1½ cups water.  

10

Bring to a boil, cover, and simmer for 20 minutes, until the chicken is cooked but still firm.

11

If using coconut, place it in a food processor with ¾ cup warm water and reduce to a thick liquid. Add liquid (or combination of coconut milk and creamed coconut) to the pot and cook a few minutes more, until the sauce is thick and the chicken is tender.

12

Add fenugreek leaves and cilantro. Let rest 5-15 minutes and serve.