Chicken Biryani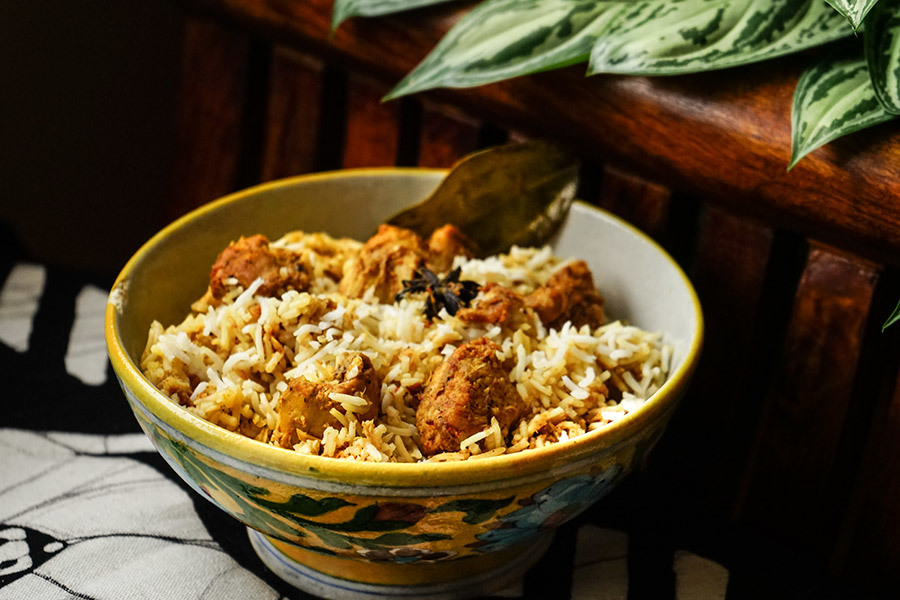 Biryani is a popular dish in India with seemingly endless regional variations. It's generally made with rice and meat, but there are also great shrimp and fish varieties. There are even vegetarian versions made with potatoes, among others.
This dish is enough to make a meal, so it really just need a simple vegetable side or a raita.
Method
1

Cut chicken into 1-inch cubes.

2

Mix chicken together with onions, garlic, ginger, oil, salt, and ground spices. Marinate in the fridge for 1-24 hours.

3

Cook rice according to manufacturer's instructions. Add salt and pepper and set aside.

4

Heat a large pot on medium heat. Add oil and whole spices. Sauté 1 minute. Add tomatoes and cook for 5 minutes, stirring regularly.

5

Add marinated chicken with onions and cover. Cook until chicken until tender and cooked through, around 45 minutes, stirring on occasion.

6

Add ¼ cup water and simmer for 5 more minutes.

7

Preheat oven to 400°F.

8

In a deep, oven-proof dish, spread rice and chicken in layers. Cover with aluminum foil and finish cooking in the oven for around 10 minutes.