Chicken Kabsa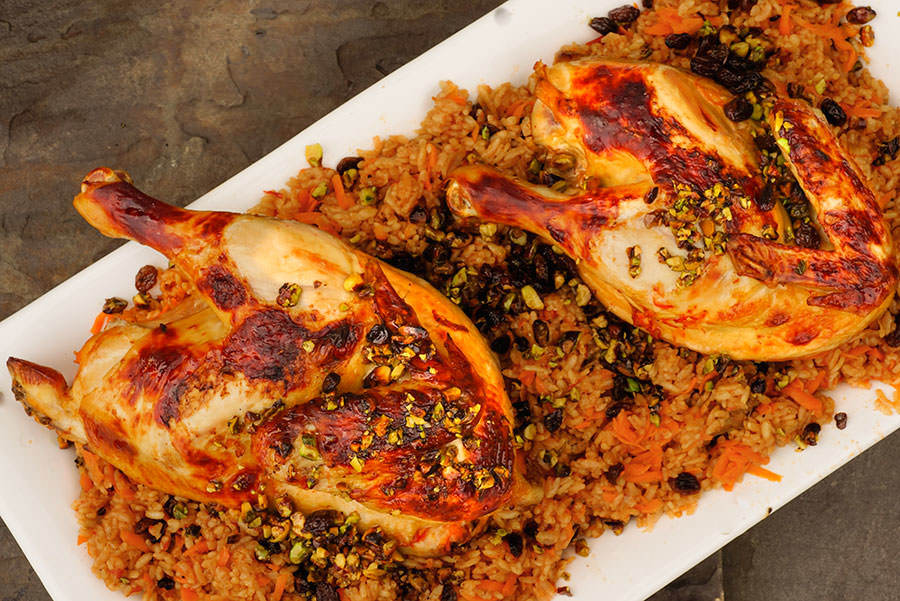 This large, filling crowd-pleaser is often the centerpiece of celebrations on the Arabian Peninsula. Be careful not to add too much water- the rice should be dry and not too sticky.
Ingredients
4 Tbsp olive oil
2 large onions, chopped roughly
1 Tbsp ginger
1 large carrot, peeled and julienned
1 large chicken (about 2 lbs.), cut in half
1 Tbsp Salt
2 Tbsp Kabsa spice blend
1 ½ Tbsp tomato paste
6 medium tomatoes, grated
4 cups rice
4 cups water
½ cup pistachios, chopped roughly
½ cup raisins
Method
1

Heat 3 Tbsp. oil in a large pot on medium high. Add onions and sautée until soft, about 5 minutes. Add ginger, mix well, and sautée for another minute. Add the carrots, stir, and sautée until they are soft, another minute or two.


2

Add the chicken halves, coat well with oil and vegetables. Add the salt and spices, again stirring to ensure the chicken is well coated. Add the tomato paste and stir. After the tomato paste begins to cook, about 2-3 minutes, add the grated tomatoes.

3

Add the water and stir again, ensuring the chicken is mostly submerged in the water. Cover immediately and reduce heat to medium.

4

Continue to simmer, covered, on medium heat, until the chicken in cooked through, about 25-30 minutes. Remove the chicken and set on a baking tray.

5

Add the rice to the pot and reduce heat to medium low. Simmer on low until the rice has absorbed the liquid and is cooked.

6

While the rice is cooking, add the remaining 1 Tbsp. oil to a small pan. Turn the heat on medium and add the raisins. Cook, stirring often, until they are brown. Remove from the pan, set aside, and repeat the browning process with the pistachios.

7

About 5-10 minutes before the rice is finished, put the chicken in the oven and broil. The skin should get brown and crackly very quickly. Remove when you are satisfied with its doneness.

8

Lay the rice out on a large platter. Put the chicken pieces on top and garnish with the nuts and raisins. Serve hot.