Chicken mixiote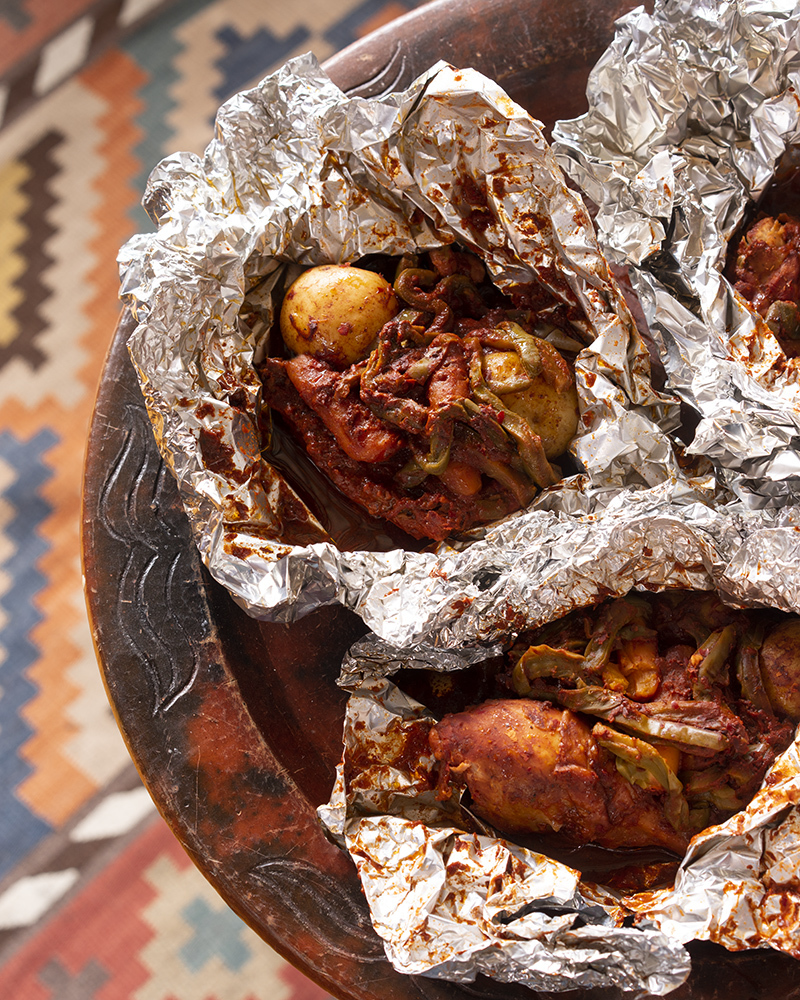 Mixiotes are the leaves of the Maguey (a type of Agave) which are used to enclose steamed «papillotes». This Central Mexican recipe can be made using a variety of meats and vegetables. This version, made with chicken, was recently made by our colleague Blanca, for a staff lunch. If you can't find Maguey leaves, feel free to replace them with aluminium foil to fashion a well-sealed "papillote".
Ingredients
6 chicken thighs and/or legs
1 large carrot
12 small New potatoes
2-3 nopal (cactus leaves) or 36 green beans
½ recipe Mixiote adobo (recipe below)
6 12–inch aluminum foil squares
Mixiote Adobo
Adobo
1

Heat a stove on medium and roast two chilies at a time, on each side for 10 seconds to soften. Open the chilies, remove the stems and seeds.

2

Repeat with the remaining chilies.

3

Rinse chilies under running water, then place them in a bowl. Barely cover with warm water and allow them to rehydrate for 30 minutes.

4

Place the annatto seeds in a spice/coffee grinder and reduce to a fine powder. This should take two minutes as they are very hard. Put the powder into a very fine strainer. Strain over a bowl and discard the hard, unground seeds.

5

Roast the spices for a few seconds in a dry pan, until they become odorant. Grind the spices and add the roucou powder.

6

Strain the chilies and add them to the ground spices and the remaining ingredients.

7

Reduce to a smooth paste. This could take up to five minutes. Add some water if the paste is too thick and doesn't blend well in the grinder.

8

Remove the adobo and put it in a container. This chilie paste keeps for a few days refrigerated and freezes well.
Method
1

Place the chicken pieces with the adobo into a bowl. Mix well and let rest in the fridge for a few hours, or ideally, overnight.

2

Peel, then cut the carrots into 12 pieces.

3

Wash the potatoes.

4

Remove the spines from the Nopal then cut into ½-inch strips.

5

Place a piece of chicken into each aluminium foil square. Add 2 slices of carrots, two potatoes and a few strips of Nopal or green beans.

6

Spread the remaining marinade from the bottom of the bowl on to the vegetables and close the «papillotes» sealing them carefully.

7

Pour water into the pot. Place a colander or another accessory that facilitates steaming. Place the "papillotes" carefully, allowing the steam to circulate evenly.

8

Cover, and cook for 1 ½ hours on medium. Make sure that the pot doesn't run dry during cooking.

9

Serve hot with white rice and black beans as a traditional accompaniment.