Chicken noodle soup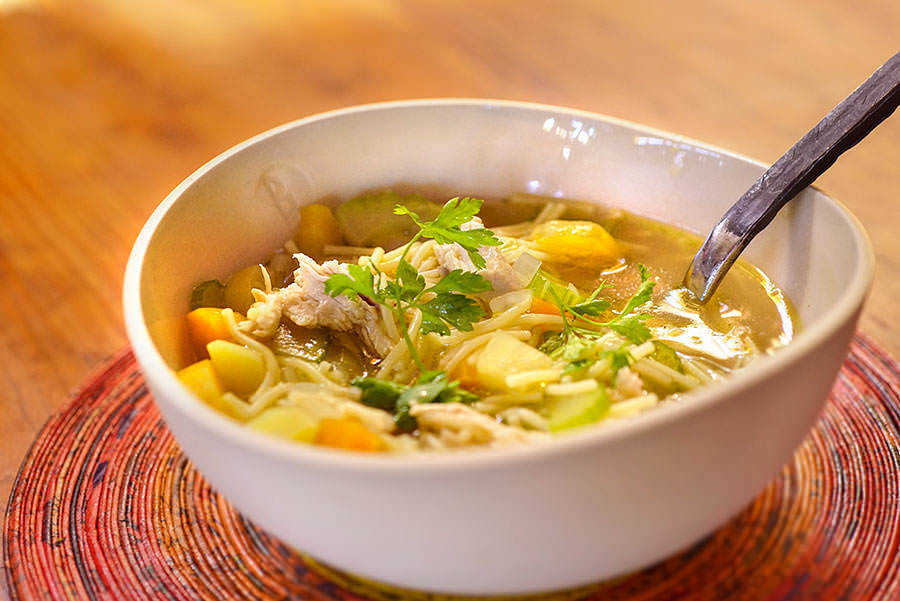 This soup is without a doubt one of the great comfort foods. For the best results, use a homemade stock.
Ingredients
6 cups chicken stock
2 chicken breasts
1 Tbsp Poultry Seasoning, ground
½ cup carrot, diced small
½ cup celery, diced small
½ cup onion, diced small
Salt and pepper, to taste
1 cup small noodles
Chopped parsley
Method
1

Pour the stock into a large pot. Bring to a boil.

2

Wash the chicken thoroughly in water. Put it in the pot with the stock.

3

When the stock comes to a boil, skim the foam that comes to the top. Add the ground spices and cook for another 15 minutes. Remove the chicken and set aside.

4

Put the vegetables in the bouillon. Add salt and pepper. Cook for 5 minutes, then add the noodles.

5

Meanwhile, shred the chicken with two forks. Put it back in the pot and cook for 6-7 minutes.

6

Serve when the pasta is cooked and garnish with the parsley.