Chicken olive tajine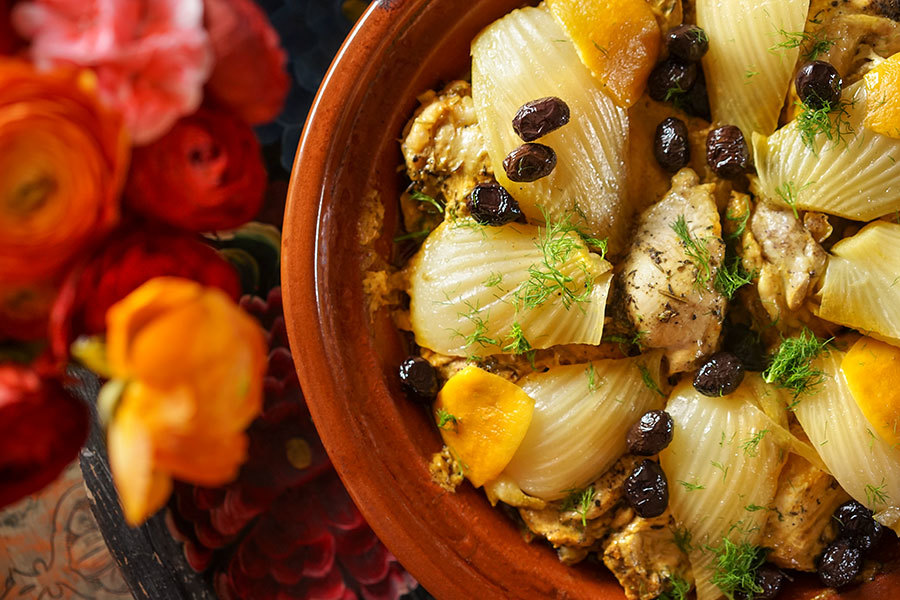 Tajine with chicken and olives is one of North Africa's emblematic dishes. We stretch the recipe a little here by adding our Mediterranean Herb blend.
Ingredients
3 lbs chicken, in pieces
1 Tbsp Mediterranean Herbs
1 tsp ground black pepper
Salt to taste
1 onion, chopped
2 fennel bulbs
6 Tbsp preserved lemon, chopped or juice and zest of 1 lemon
3 cloves garlic, chopped
Olive oil
24 green olives
Method
1

Rinse chicken in warm water, drain, then dry with a paper towel.

2

Grind spices and mix with salt. Rub the chicken thoroughly with the mix.

3

Place the chopped onion on the bottom of the Tajine pot. Place the meat on top. Remove tough stems from fennel bulb and set leaves aside. Quarter fennel and place between chicken pieces. Add preserved lemon, garlic and finally, sprinkle with olive oil and 4 Tbsp water. Cover and place on medium heat.

4

Once the sauce begins to form in the Tajine, reduce heat to low. Cook until chicken is done, around 1¼ hours.

5

Add olives and garnish with fennel leaves. Let stand 15 to 30 minutes before serving.