Chicken pot pie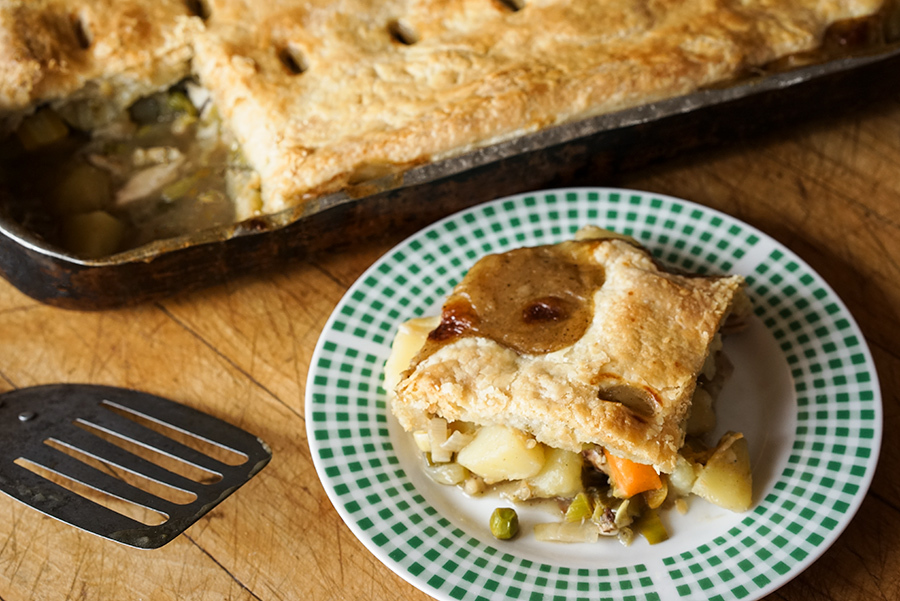 The secret to making a great chicken pot pie is home-made stock. Because this recipe yields a generous amount, there'll surely be enough to use as a base for delicious soups or stews. Chicken pot pie freezes well so don't hesitate to double or even triple the recipe.
Chicken and stock
1 large chicken (about 1.8 kg)
2 Tbsp poultry seasoning 
3 carrots, roughly chopped
3 onions, quartered
3 celery branches, roughly chopped 
Pot pie
10 carrots, diced
8 potatoes, diced 
2 cups frozen peas
¼ cup oil or butter  
1 leek, slivered 
1 onion, slivered 
3 garlic cloves, finely chopped 
4 celery branches, slivered 
Salt and pepper, to taste 
2 Tbsp poultry seasoning, ground 
3 Tbsp dried shallots (opt.)
5 Tbsp flour 
4¼ cups chicken stock 
1 cooked, deboned chicken, cut in large pieces
1 large sheet pastry crust (see our recipe)
1 Tbsp 35% cream or 1 egg yolk 
Chicken and stock
1

Place chicken, whole spices, carrots, onions and celery in a large pot.

2

Cover with water and cook on medium for 1h30 to 2 hours, until chicken is tender. 


3

Remove chicken from the pot and let cool before deboning.

4

Strain stock and set aside. 
Pot pie
1

Bring a large pot of salted water to a boil. Add carrots and potatoes. Cook for 12 minutes, until vegetables are cooked, but still firm.

2

Add peas and cook another 2 minutes. Strain vegetables and set aside.

3

Heat oil in a pot on low. Sauté leeks, onions, garlic and celery for 10 minutes. Add salt, pepper, spices and mix well.

4

Add flour and cook another minute, mixing continuously. Incorporate chicken stock, stirring until the preparation begins to boil and thicken.

5

Add cooked chicken pieces and cooked vegetables. Mix well.  Transfer to an oven-proof dish (10 in X 15 in) or into two 9-inch pie pans.

6

Cover with pie crust. Make little incisions on the crust, then brush generously with cream or egg yolk.

7

 Cook in the oven at 350 °F for 1 hour.