Chicken with Asparagus and Shiitake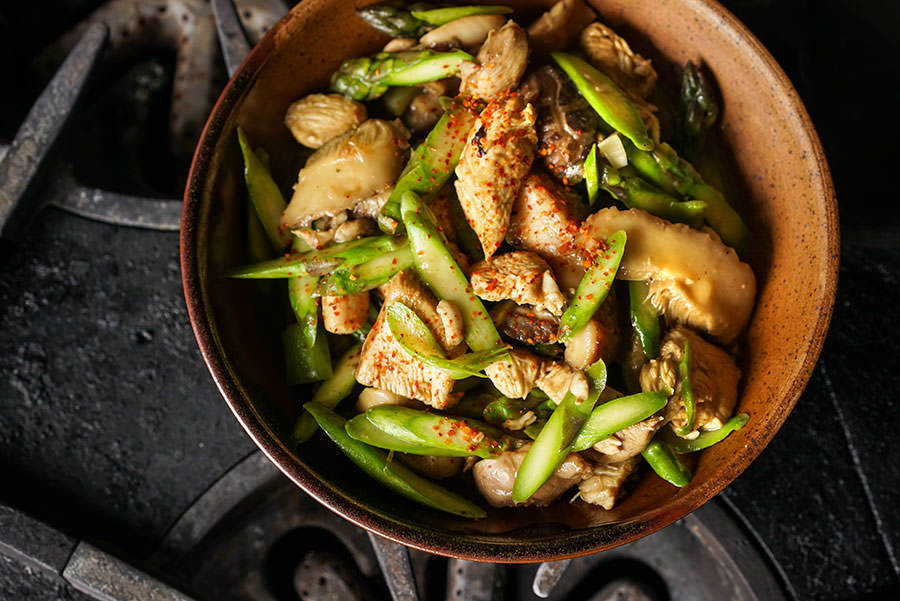 This recipe can also be made with fresh shiitakes, but the mushroom soaking water in the recipes should be replaced with stock.
Ingredients
15 medium dried shiitakes
1 lb chicken breast
½ tsp white pepper, ground
1 bunch asparagus
3 Tbsp duck fat or coconut oil
4 scallions, sliced
1 Tbsp ginger, chopped
Philippe's Chinese Marinade
2 tbsp arrowroot powder
½ tsp black pepper, ground
1 tsp salt
1 tsp maple syrup
2 tbsp tamari
2 tsp sesame oil
2 tbsp sherry or vermouth
Sauce
½ cup mushroom soaking water
2 Tbsp sherry or white wine
1 Tbsp honey (opt.)
1 Tbsp tamari or coconut aminos
Method
1

Rinse shiitakes thoroughly and palce them in a bowl. Cover with water and soak a few hours or overnight. If you're in a hurry, cover with boiling water and soak 20 minutes. Once the mushrooms are rehydrated, remove stems and strain the soaking water into a bowl.

2

Halve chicken breasts lengthwise, then slice into ½-inch thick pieces. Mix marinade ingredients and spices together in a bowl. Add meat and mix to ensure each piece of meat is covered. Let rest 15 minutes at room temperature.

3

Remove tough bottom ends of asparagus and slice, at an angle, into ½-thick pieces.

4

Mix remaining ingredients together in a small bowl. Set aside.

5

Heat a wok on medium-high. Melt fat and add drained shiitakes, then sauté for 1 minutet. Add chicken and stir with a spatula to ensure they don't stick together. Set meat and mushrooms aside on a plate when they are almost cooked. Leave fat in the wok.

6

Increase heat to maximum, add scallion and ginger, and cook for 10 seconds. Incorporate sliced asparagus. Add chicken and mushrooms, then sauce ingredients. Continue cooking for 1 minute.