Chicken Yassa with saffron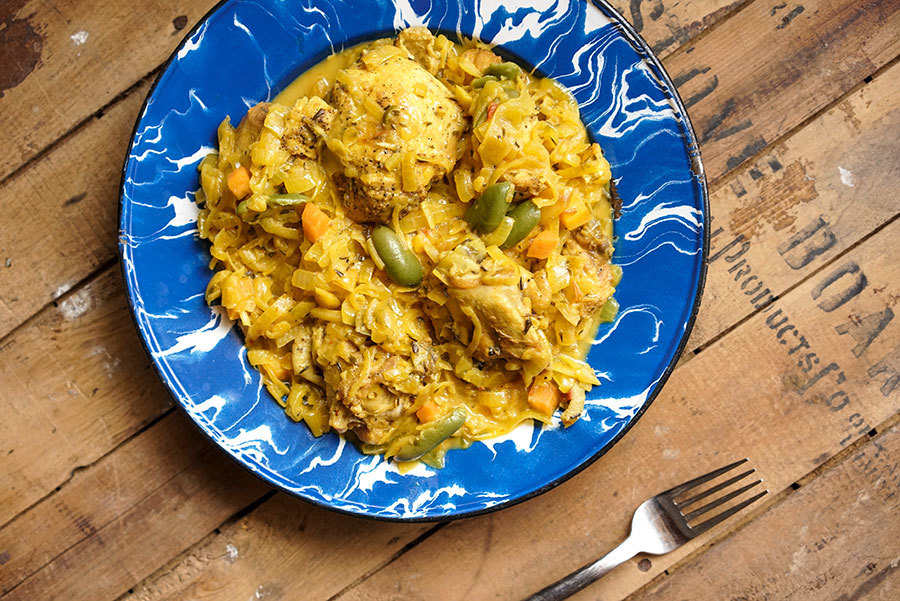 This flavourful chicken and onion dish is a traditional Senegalese recipe kicked up by our 8 pepper blend and saffron. 
Ingredients
1 large chicken, around 2 kg
---
Salt and pepper, to taste
---
2 cups vegetable or olive oil

---
1 tomato, seeded and diced

---
12 onions, sliced into thin strips
---
1 tsp fresh ginger, sliced
---
1 bouquet garni

---
1 bay leaf

---
¼ gram saffron

---
3 Tbsp Dijon mustard

---
150 g green olives, pitted and rinsed

---
2 carrots, diced

---
Juice of 4 lemons
---
1 generous pinch of 8 Pepper Blend, ground

Method
1

Carve chicken into pieces. Salt, pepper and fry pieces in a pot with oil on high heat. Remove chicken and set aside.

2

Remove most of the oil, leaving around 5 tablespoons.

3

Add diced tomato and sauté, then add onions and ginger. Let simmer while scraping the pot regularly. Add the bouquet garni, bay leaf, and saffron.

4

When the onions are lightly browned, reduce heat and add mustard, olives and carrots. Let simmer for 15 minutes.

5

Add chicken then lemon and 8 pepper blend. Let simmer for 20 more minutes on medium heat.