Chilorio - Chilied Pork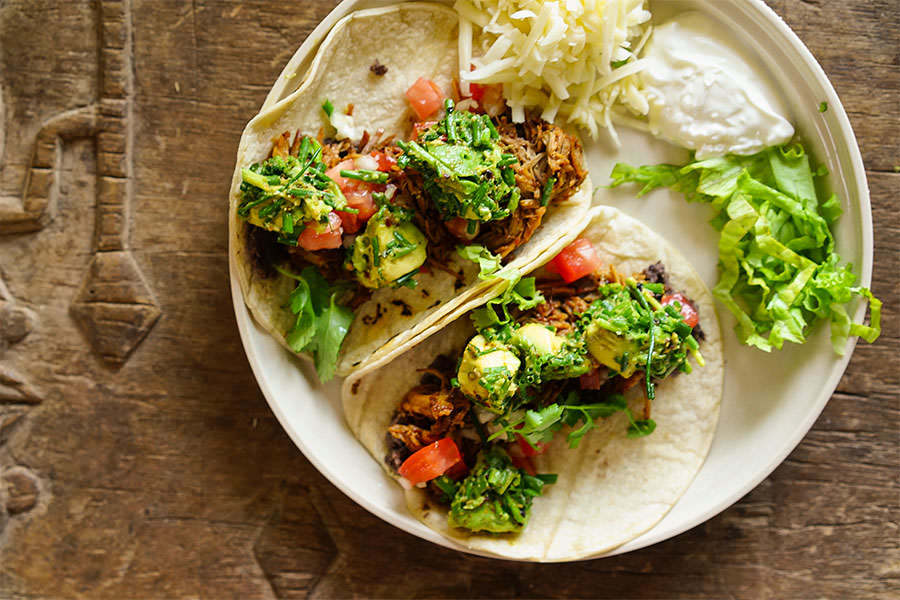 This fine recipe is a great way to become acquainted with the very flavorful Ancho chile. Chilorio can be served as a main dish or as an hors d'oeuvre with tortillas.
Ingredients
Choice of Garnishes
Cilantro
Diced tomatoes
Sliced avocadoes
Sliced Spanish onions
Sliced radishes
Method
1

In a pan, cover the cubed pork with water. Add salt and bring to a boil.

2

Reduce heat and cover partially. Let simmer, stirring from time to time, until the water has evaporated and the meat is tender (approx. 40 min.)

3

Using a fork, shred the meat. Set aside.

4

In a hot pan, grill the chiles for 15-30 seconds, turning often until they become fragrant.

5

Open chiles and remove the stems, placenta and seeds. Place chiles in a bowl and cover with hot water. Allow to soak for 15 minutes. Strain the chiles and reserve the water in which they soaked.

6

Roast cumin, oregano and peppercorns in a dry pan, on medium heat, for a few seconds. Using a mortar and pestle or an electric grinder, grind the spices coarsely.

7

In a food processor, blend the chiles, spices, vinegar, garlic and salt.

8

Add the reserved chili water, if necessary, to obtain the consistency of tomato paste.

9

Put 4 tbsp of pork fat or olive oil in a pan on medium heat.  Add the chili purée and cook for 5 to 10 minutes, stirring constantly until the purée becomes fragrant.

10

Add the meat and cook for a few more minutes.

11

Serve with hot tortillas.