Chinese Five Spices Pork Tenderloin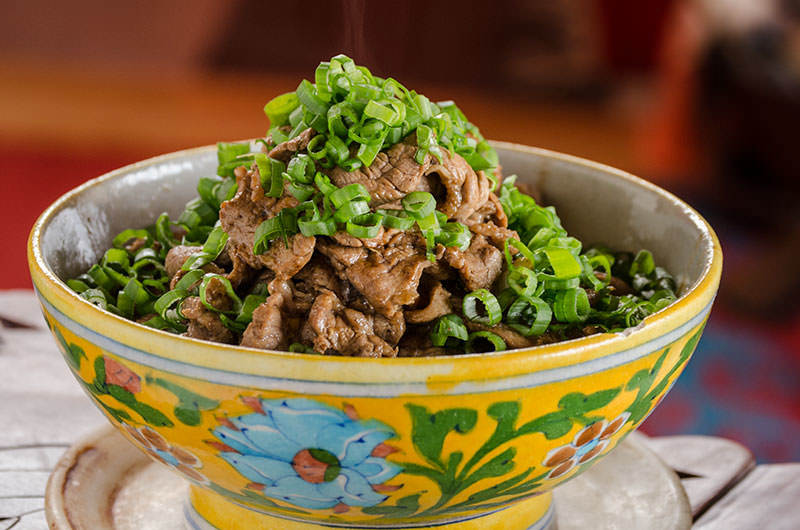 This quick dish reminds us of the flavor of traditionnal Chinese braised pork which can take many hours to cook. As with all stir-fries prepared in a wok, it is important to cut the meat in equal slices in order for them to cook evenly.
Ingredients
½ lb pork filet
3 scallions
2 Tbsp peanut oil
2 Tbsp light soya sauce
Marinade
2 Tbsp Hoisin sauce
1 Tbsp Chinese rice wine or gin
2 Tbsp rice vinegar
1½ light-colored soya sauce
1 tsp ginger, grated
2 garlic cloves, finely chopped
½ tsp Chinese Five Spices, ground
A few drops of roasted sesame oil
1 pinch of salt
Method
1

Cut pork into ¼-inch (5 mm) slices and mix in a bowl with marinade. Let rest for 15 minutes.

2

Meanwhile, separate the green from the white parts of the scallions. Cut the white sections into 1-inch (2.5 cm) pieces, lenghtwise. Set the green leaves aside.

3

Heat a wok on high. Pour in oil; add white sections of scallions and sauté for 15 seconds. Add meat and stir until meat is cooked but still juicy (1½ -2 minutes). Pour in soya sauce, mix well and place on a platter. Garnish with finely sliced scallion leaves.