Chipotle Roasted Chicken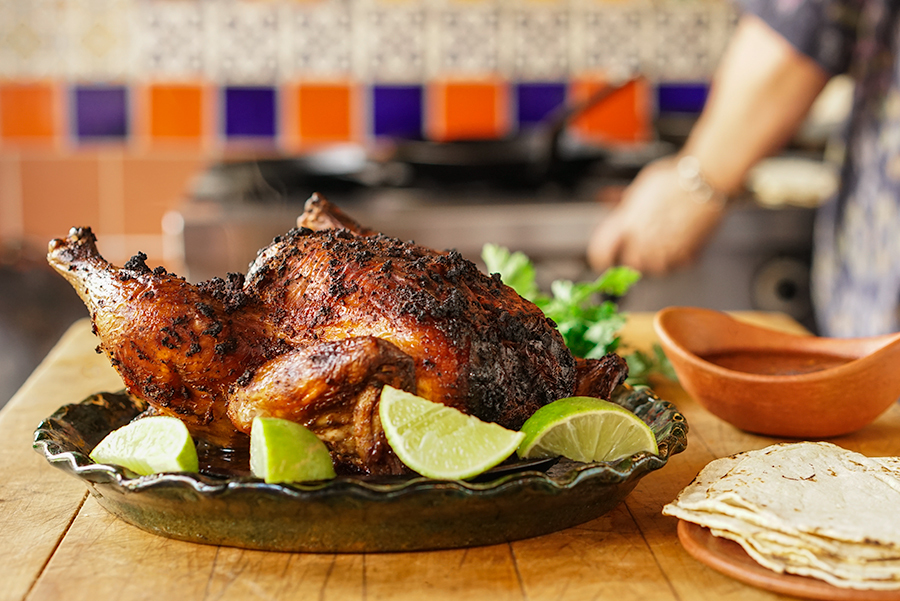 This marinade is the closest thing to a « Mexican BBQ sauce ».
We recreated the recipe based on our memories of an unforgettable meal we had on the side of the road, after a long drive in the Sierra Juarez, in Mexico, where there was hardly even a place to park. We had finally arrived in San Juan Bautista de Tuxtepec, several hours after lunchtime and a señorita was roasting chickens on a spit in a charcoal fire. The menu was simple (but incredibly flavourful!): one marinated, whole, roasted chicken, 1 kg hot tortillas, limes and gravy in a plastic bag!
Method
1

Cut the lime in two and rub the chicken inside and out. Leave the lime halves in the chicken cavity. Let rest while preparing the marinade.





2

Grill the large chipotle chilies in a dry pan. Open, then remove some or all the seeds, to taste (if you like a marinade that is picante, do not remove any seeds).






3

Break the chilies into 1-inch pieces. Rinse under running water, place in a bowl and barely cover with boiling water. Let rest 10 minutes. 




4

Grind the spices to a coarse powder, using a mortar and pestle or grinder.




5

Cut onions into large cubes and place them in a blender or food processor with soaked chilies and their water, ground spices, oil, sugar, salt, garlic and vinegar. Grind to a purée.




6

Place the chicken in a bowl, then rub the inside and outside vigorously with the marinade. Let rest for a few hours or overnight in a cool place.




7

Heat the oven to 375 °F or fire up the grill on one side only. Place the chicken in a roasting pan and set aside the remaining marinade. 




8

Cook the chicken in the oven, basting occasionally with its cooking juices for 1h30, or on the un-lit side of the grill, covered for 1h30.




9

Remove chicken from the roasting pan and let rest on a dish while preparing the sauce.  




10

Pour the remaining marinade and a glass of water into the roasting pan. Place on the stove and boil for 2 minutes while grating with a spatula to deglaze the pan.


Filter the sauce using a strainer.


11

Serve the chicken with sauce, hot tortillas and lime quarters.