Chocolate Pudding with Oaxaca spices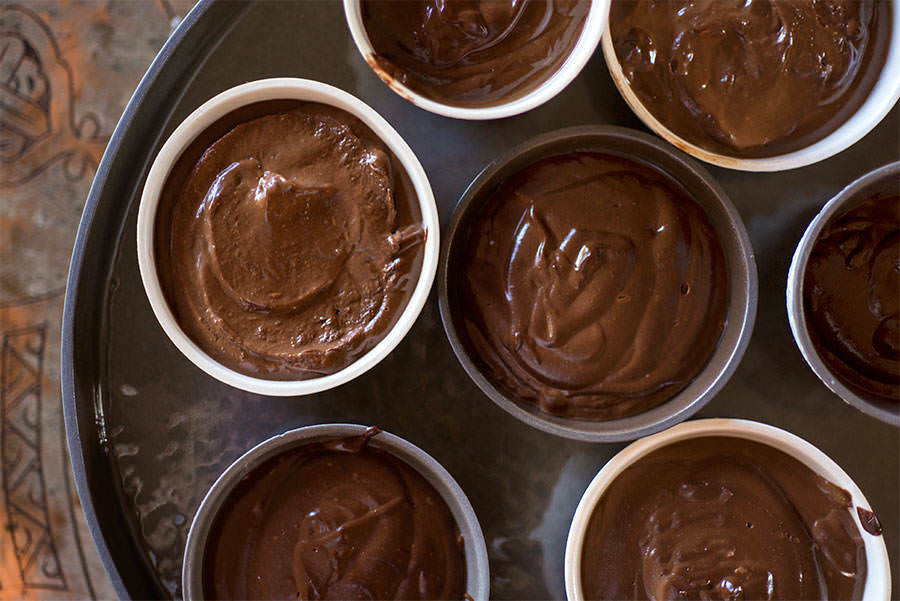 The spice blend found in this recipe has been used with for millennia in Mexico. Ideally, this pudding would be made with a good quality chocolate, at 60% to 70%.It's important to take the cream off the heat as soon as it comes to a boil and pour it over the chocolate immediately for a more velvety texture.
Ingredients
250g g dark chocolate
2 cups milk
1 cup 35% cream
1 Tbsp Oaxaca Chocolate Spices
¼ cup sugar
2 Tbsp cocoa powder
3 egg yolks
1 egg
1 Tbsp corn starch
Method
1

Crush the chocolate into small pieces and put in a large bowl. Place a flat sieve on top.

2

Pour the milk, cream, and spices in a pot. Slowly pour half the sugar in the center of the pot. Turn on heat and do not stir. Turn off heat as soon as the milk starts to boil.

3

Meanwhile, sift the cocoa powder into a second bowl.

4

Gradually pour the hot milk over the cocoa powder, whipping as you go, until the chocolate is dissolved.

5

Place the egg yolks, egg, starch, and remaining sugar in another bowl. Beat well with a whisk.

6

Incorporate, little by little, the hot milk and cocoa powder into the egg mixture with a whisk.

7

Cook over a low heat, stirring constantly, just until it begins to boil. Immediately pour over the broken dark chocolate through the sieve.

8

Blend with a hand blender until the cream is thick and smooth.

9

Pour into 6-8 ramekins or a large bowl.

10

Chill in the fridge at least 2 hours.