Cauliflower with Pine Nuts and Raisins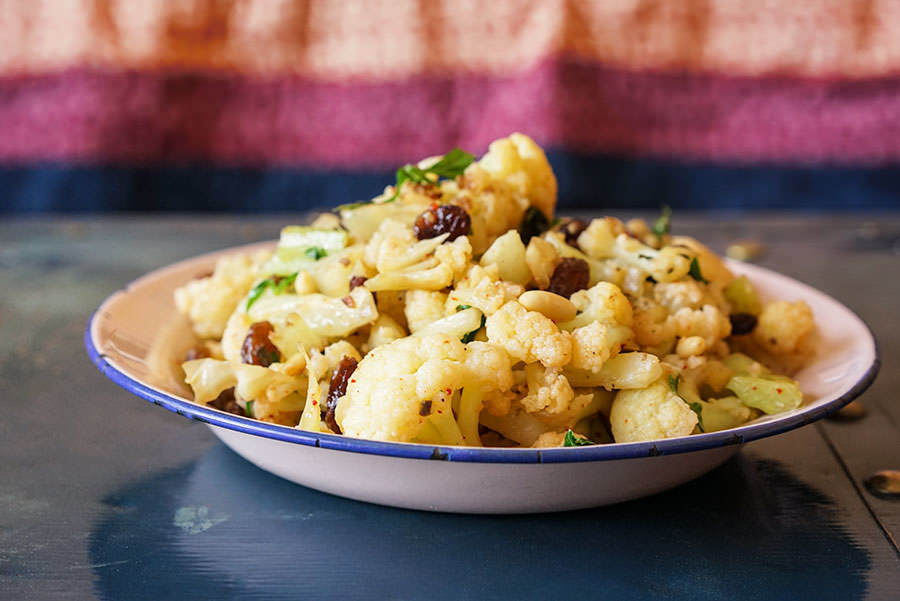 The delicious anchovy/raisin/pine nut/chile combination comes from Sicily. It's a great companion to fish or vegetables.
Ingredients
4 cups small cauliflower bouquets
1 Tbsp salt
3 Tbsp coconut oil
4 anchovy filets, chopped fine
¼ cup raisins
¼ cup pine nuts or blanched almonds
½ tsp oregano
Reshampatti pepper or Cayenne to taste
2 Tbsp olive oil
Method
1

Wash cauliflower and drain.

2

Fill a wok halfway with water. Add salt and bring to a boil. Cook cauliflower in water for 2-3 minutes (the time it takes to bring the water back to a boil). Continue cooking 1-2 minutes longer, until its tender.

3

Wipe the wok. Place on medium heat. Add anchovies and cook for 30 seconds (the time it takes for the anchovies to start melting). Add raisins and pine nuts. Cook, stirring constantly, until they begin to color and the raisins swell, 5-10 seconds. Add the well-drained cauliflower, oregano, chile, and olive oil. Stir well and cook for 30 seconds more.

4

Stir well and cook for 30 seconds more.