Kale with Bacon and Mushrooms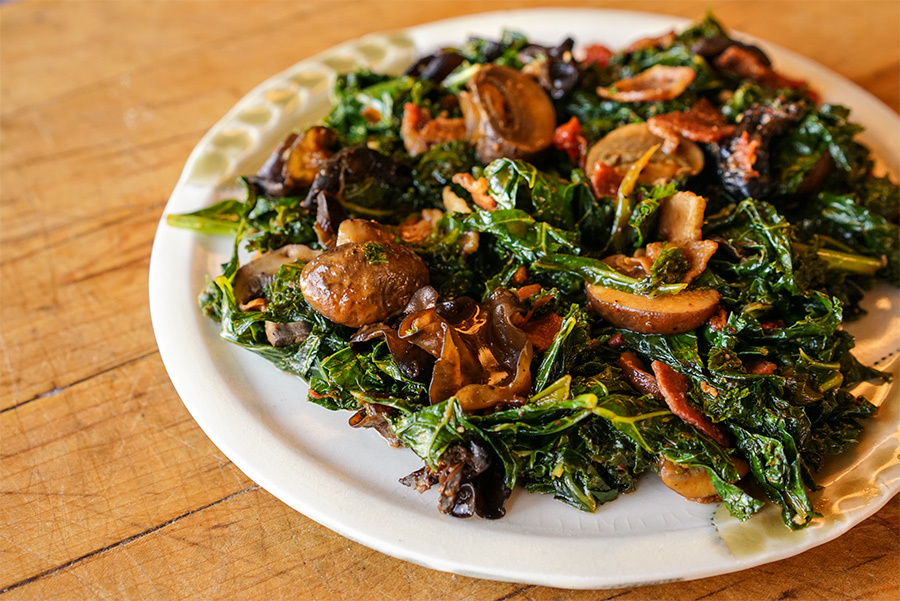 A modern classic! This recipe perfectly balances the pronounced flavor of kale with bacon, mushrooms and spices.
Ingredients
1 large bunch kale
2 tsp Cajun Spice
½ tsp black pepper
6 slices bacon
1 Tbsp coconut oil
4 cloves garlic, chopped
1 bunch scallions, sliced
4 Tbsp tomato paste
3 cups mushrooms
2 tomatoes, chopped
1 cup chicken stock
½ cup white wine
Method
1

Wash chard and separate leaves from stems. Chop leaves roughly and cut stems into ¾-inch pieces. Grind Cajun Spices and pepper.

2

Chop bacon into 1-inch cubes. Place oil in a pot on medium heat and sauté bacon until golden, around 5 minutes. Add ground spices, garlic and scallions, then tomato paste and continue cooking 2-3 minutes more.

3

Chop or slice mushrooms. Add to the pot with tomatoes, stir and sauté for 3 minutes.

4

Add chicken stock and wine and bring to a boil. Simmer until mushrooms are cooked. Incorporate chopped kale and let simmer gently a few more minutes. Add salt, if needed.