Classic Apple pie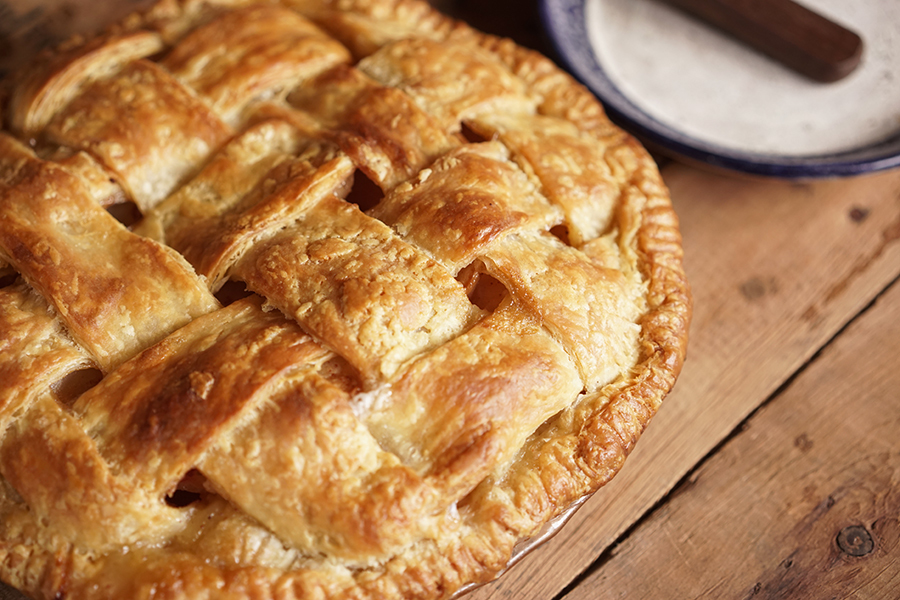 A simple yet classic apple pie, enhanced with cassia and nutmeg. We suggest using apples that don't soften too much when cooked, such as Cortland or Lobo, or even a mix of different varieties. For a spicier version, substitute the cassia and the nutmeg with either our Mulling or Gingerbread spice blends.
Ingredients
Juice of half lemon

6 medium apples
½ cup brown sugar
2 Tbsp flour
1 tsp cassia, ground
½ tsp nutmeg, ground
2 ready-made crusts (see our recipe)
Milk to baste
Method
1

Heat the oven to 425 °F.

2

Squeeze the lemon juice into a large bowl.

3

Peel the apples, cut in two and remove the hearts. Slice the apples and mix with the lemon juice one at a time.

4

Add brown sugar, flour and spices. Mix well.

5

Place one crust into a 9 – inch pie plate.

6

Pour the apple mixture into the pie plate then spread the apple slices.

7

Baste the sides of the pie plate with a little bit of water and cover with the second crust. Seal the crusts using your fingers or the tines of a fork.

8

Make one or more incision to the center of the curst.

9

Baste with milk.

10

Bake for 15 minutes in the oven. Reduce the heat to 350 °F and continue baking for another 30 minutes.