Classic Caesar Salad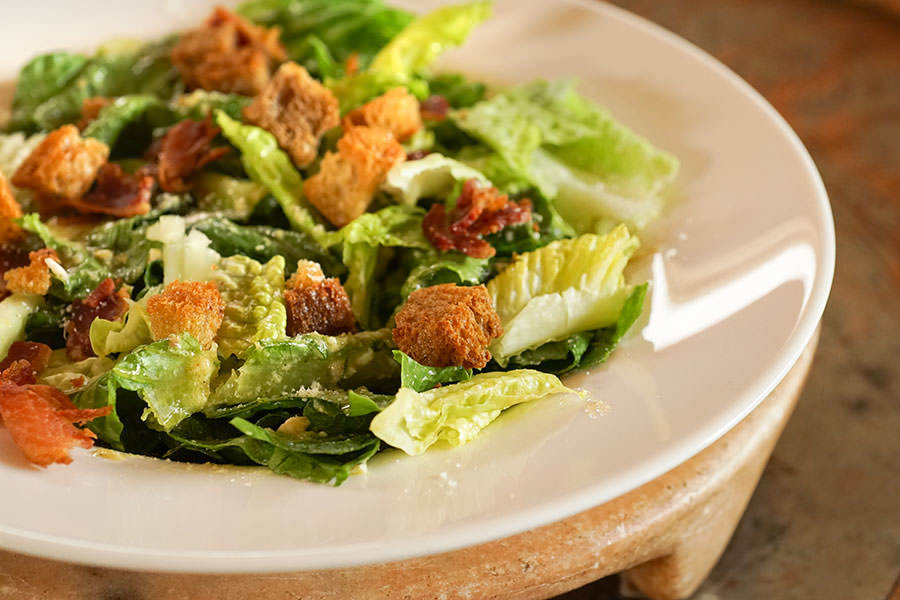 The original Caesar salad did not have bacon, but we just couldn't resist. Feel free to omit it for a lighter salad.
Ingredients
1 head Romaine lettuce
2 cups croutons
8-10 slices cooked bacon, crumbled (opt.)
Grated Parmesan, for garnish, to taste
Dressing
1 egg
6 anchovy filets
4 Tbsp parsley, chopped
2 Tbsp lime juice or lemon juice
2 Tbsp vinegar
Splash Tabasco sauce
Splash Worcestershire sauce
Fresh ground black pepper, to taste
½ cup olive oil
½ cup grated Parmesan
Method
1

Soft boil egg in a small pot of water, about 2 minutes, until only partially cooked. Reserve.

2

Smash anchovies, garlic, and parsley in a mortar; transfer to a bowl.

3

Crack egg into the bowl, scraping the insides of the shell to remove all the egg. Stir with a fork or whisk.

4

Add lime juice, vinegar, Tabasco, Worcestershire and pepper. Stir.

5

Splash in olive oil little by little, while stirring the dressing constantly. Add Parmesan.

6

Tear lettuce apart into a salad bowl. Add bacon, croutons, and dressing. Toss, then garnish with parmesan.