Classic turkish kebabs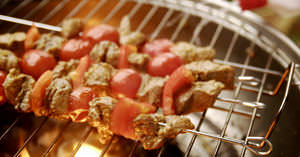 Classic turkish lamb kebabs!

Ingredients
1 lb (500g) lamb, cubed (shoulder, leg, etc.)
1 box grape tomatoes or cherry tomatoes
2 Hungarian or red peppers
Salt
Marinade
Method
1

In a bowl, grate onion and blend well with all remaining marinade ingredients.

2

Marinate cubes of lamb for at least one hour (ideally up to 48 hours).

3

Cut peppers into chunks.

4

Skewer alternately cubes of meat, whole tomatoes, and pepper chunks.

5

Grill over medium heat. Salt after cooking and serve.