Cocoa butter, cocoa nibs and tonka bean cookies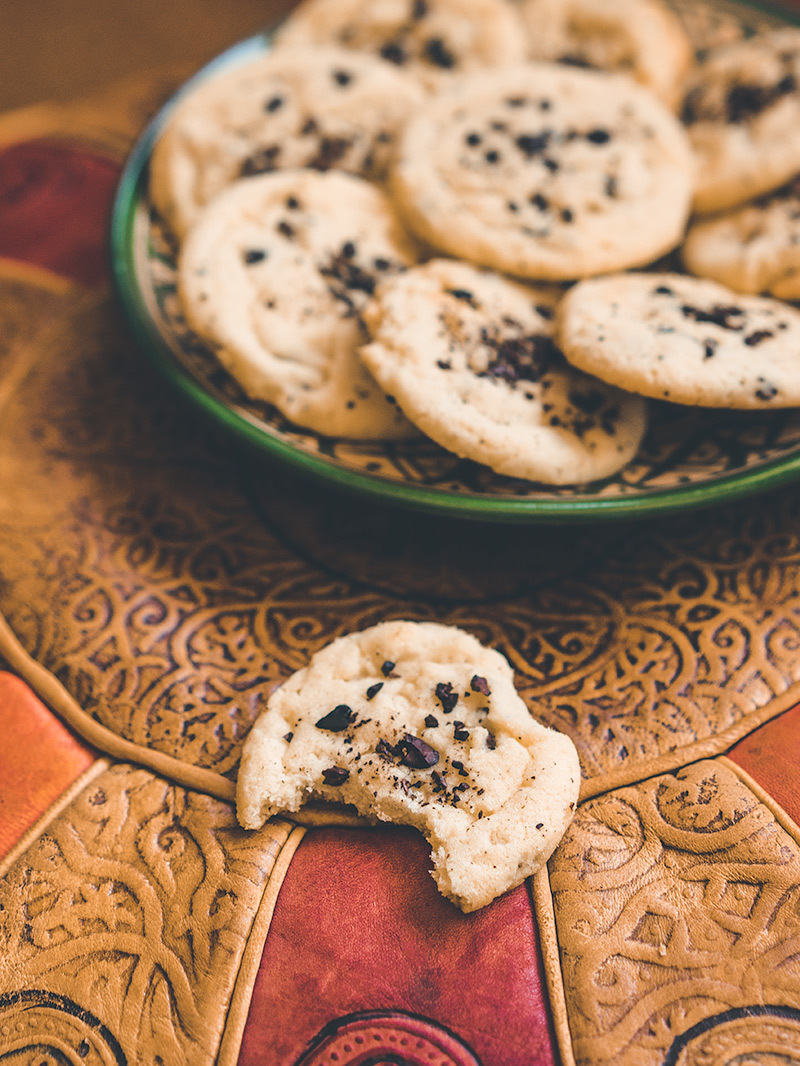 Cocoa nibs are cocoa beans that have been roasted and coarsely chopped. They add texture to desserts as well as depth and richness to the cocoa flavour.

Avoid refrigerating the cookie dough before shaping the cookies as the cocoa butter will make it too hard to knead. Makes 36 cookies.
Ingredients
½ cup cocoa butter
¼ cup roasted cocoa beans
8 Tbsp unsalted butter
1 ¼ cups white sugar
1 large egg, cold
1 Tbsp vanilla extract
¼ tsp tonka bean, finely grated
½ tsp salt
1 tsp baking powder
¼ tsp baking soda
2 1/3 cups all-purpose flour
Pink Himalayan salt to sprinkle on top
Method
1

Preheat the oven to 350°F.

2

Line two cookie sheets with parchment paper.

3

In a small saucepan, melt the cocoa butter over low heat.

4

Pour the melted cocoa butter into a bowl and let cool (it must be lukewarm and liquid).

5

Coarsely crush the cocoa beans using a mortar and pestle. Set aside about 2 tablespoons to garnish the cookies.

6

Meanwhile, mix the grated tonka bean, salt, baking powder, baking soda and flour together.

7

Add the butter and sugar to the cooled cocoa butter and beat until creamy.

8

Add the egg and vanilla and keep beating until well blended.

9

Add the dry ingredients to the wet ingredients and mix just until dough is well combined.

10

With a spatula, fold in the cocoa nibs.

11

Shape dough into balls of about 2 tablespoons and place on a cookie sheet. Do not flatten the dough balls.

12

Sprinkle with pink salt and the reserved cocoa nibs.

13

Bake for 10 minutes.

14

Remove from the oven and let rest for a few minutes on the cookies sheet before handling.