Coconut cake with cardamom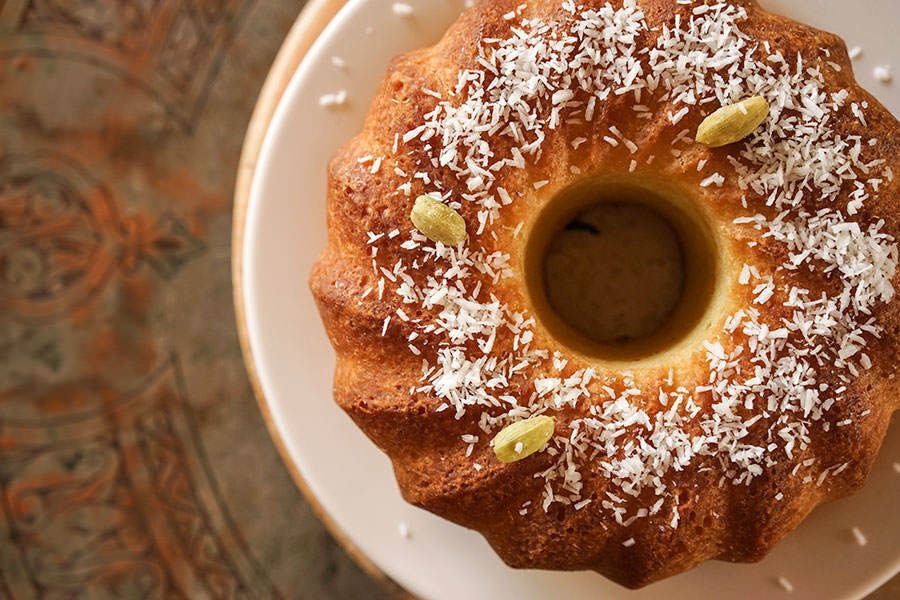 This recipe was inspired by the traditional Greek coconut cake with syrup. We just couldn't resist the idea of adding a little bit of cardamom.
Ingredients
4 eggs, separated
Pinch salt
⅔ cup butter, softened
½ cup sugar
½ cup milk
1½ cup flour
4 Tbsp baking powder
1½ cup grated, unsweetened coconut
4-5 Tbsp grated, unsweetened coconut, for garnish
Syrup
Method
1

Place all the syrup ingredients in a bowl and bring to a boil. Reduce 7-8 minutes and set aside.

2

Preheat oven to 350°F.

3


Beat the egg whites until they form firm peaks.

4


In a different bowl, beat egg yolks with butter and sugar. Add milk and stir. Incorporate the flour and baking powder, then the coconut.

5


Gently fold the egg whites into the mixture with a spatula.

6


Lightly butter and flour a Bundt pan.

7


Transfer the batter to the mold and bake for 40-45 minutes, until the cake is golden brown.

8


Immediately pour the syrup onto the cake and let stand 5 minutes before removing.

9


Garnish with grated coconut.