Cod Sofrito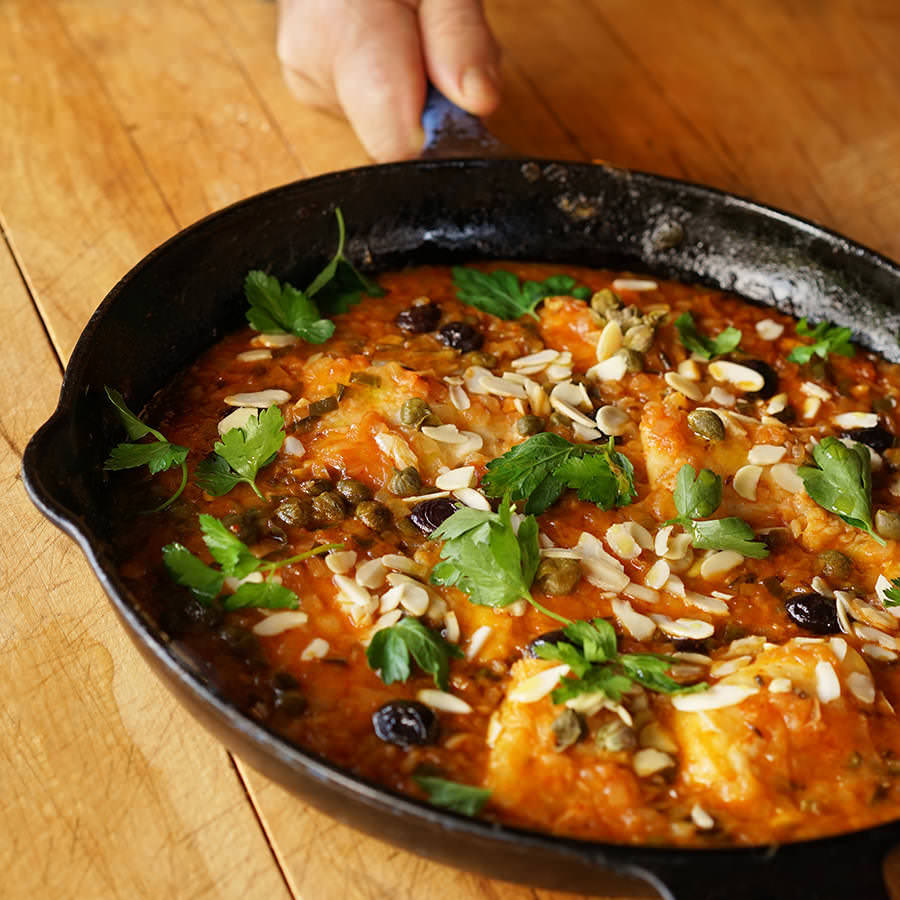 This version of a classic recipe reflects the influences of Spanish, Mexican, Caribbean and Quebec cuisines in our cooking. We simply love this way of preparing fish. The cooking time may be long, but it demands little attention , freeing the chef to prepare the rest of the meal at a leisurely pace (probably with a little glass of wine). In Hispanic countries, salt cod is more commonly used for this recipe, but you can certainly make it with any other fresh fish.
Ingredients
2 large Spanish onions, chopped fine
1 poblano or green chile, chopped fine
½ cup olive oil
2 lbs cod filet
2 tsp salt
4 cloves garlic, chopped
1 Tbsp smoked paprika
½ tsp whole cumin
Pepper to taste
Habanero, chopped fine, to taste (opt.)
2 tomatoes
½ cup sherry or white wine
3 Tbsp capers
15 olives
3 Tbsp sliced almonds
¼ cup chopped parsley
Method
1

Place onions, green chile and oil in a large pan and sofreir on low heat until onions are translucent, ½-1 hour.

2

Meanwhile, rinse cod filets. Pat dry with a paper towel. Salt filets and set aside.

3

When onions are just cooked, add garlic, smoked paprika, cumin, pepper and habanero. Stir well.

4

Grate tomatoes and pour pulp into the pan. Sofreir 15 more minutes.

5

Pour in sherry when oil begins to leach out of the sofrito and stir well. Transfer cod to the sauce. Spoon sauce over the fish. Sprinkle capers, olives and almonds around the fish. Cover and simmer until the fish is cooked, 3-5 minutes. Serve in the pan, garnished with chopped parsley.