Chicken hearts with bacon and raisins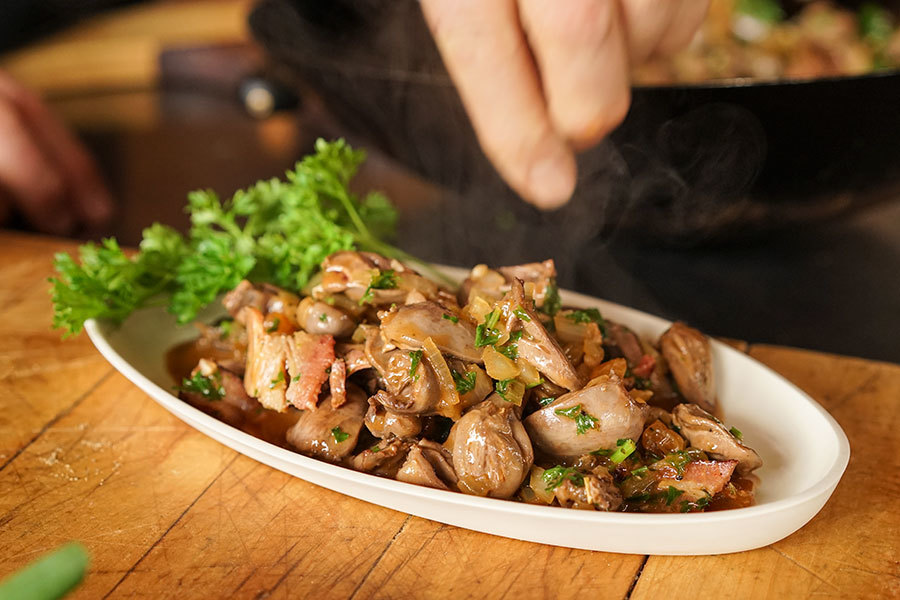 Chicken hearts are some of the most ignored offal. This is unfortunate: they are nutritious, economical and require little preparation.
Ingredients
1½ lb chicken hearts
2 onions
2 stalks celery
4 slices organic bacon
¼ cup raisins
½ tsp thyme
½ tsp sage, ground
Salt and pepper to taste
3 Tbsp clarified butter or coconut oil, as needed
2 cloves garlic, chopped
1 Tbsp tomato paste or ketchup
1 tsp honey or maple syrup
1 Tbsp cider vinegar
¼ cup vermouth or white wine
½ tsp cinnamon, ground
¼ cup parsley or other fresh herbs
Method
1

Remove veins and skin from the hearts if any remain. Halve them, place in a colander, and rinse in cold water to remove any blood. Drain and place on a paper towel. Set aside.

2

Chop bacon. Heat a wok or large cast-iron pan on medium. Sauté bacon until it starts to render fat and starts to change color. Remove bacon and set aside.

3

Sauté onions and celery until onions are tender. Add raising, thyme and sage. Salt and pepper. Cook 1 minute more. Transfer to the plate with the bacon.

4

Return wok to the heat without cleaning it. Increase heat a notch or two. Add clarified butter or coconut oil as needed. Add hearts and garlic. Stir-fry for 2 minutes. Incorporate tomato paste, vinegar, vermouth and cinnamon. Simmer 1 minute. Return onions and bacon to the pan. Sauté 1 minute more. Serve garnished with parsley.