Collard Greens in Duck Fat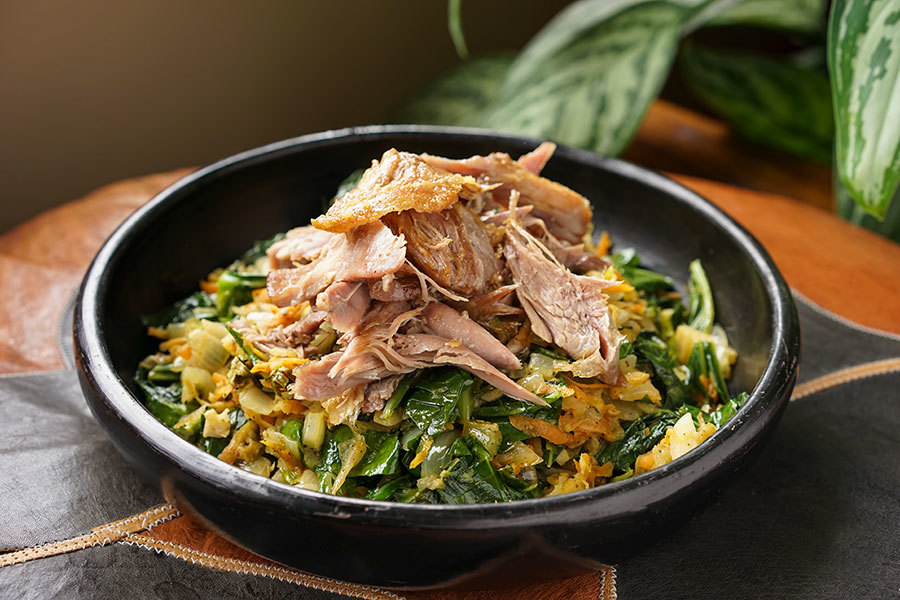 Collard greens may be little known in much of North America, but are commonly used in many parts of the world. Omit the duck confit for a lighter version of this recipe.
Ingredients
1 large bunch collard greens
4 Tbsp duck fat
1 small confit duck leg
3 medium onions, chopped
4 cloves garlic, chopped
2 celery stalks, chopped
1 carrot, grated
½ tsp thyme
½ tsp sage
1 tsp black pepper, ground
1 apple, grated
3 Tbsp cider vinegar
2 Tbsp maple syrup (opt.)
4 Tbsp Dijon or whole grain mustard
Method
1

Wash chard and separate leaves from stems. Chop leaves roughly and cut stems into ¾-inch pieces.

2

Add duck fat to a pot on medium heat and sauté duck confit 5 minutes on each side until golden and heated through. Set aside.

3

Add onion, garlic, celery, carrot herbs and pepper to the pot. Cook in fat for 5 minutes, stirring on occasion.

4

Add collard greens and grated apple, stir, reduce heat a notch or two and simmer until greens are tender (5-10 minutes).

5

Incorporate cider vinegar, maple syrup and mustard. Pour onto a plate. Shred confit and spread around collard greens for garnish.