Cooked Carrot Salad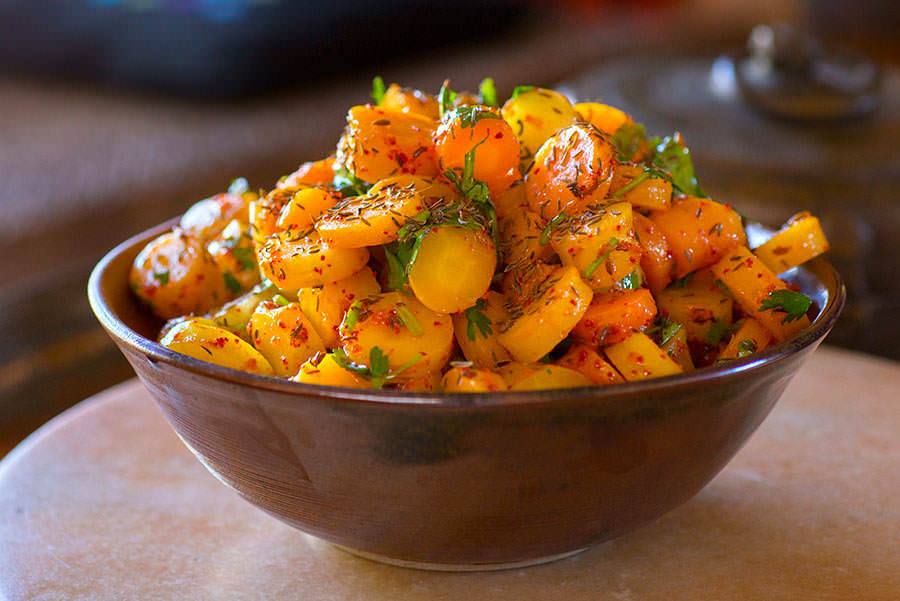 It's important to cook the carrots whole- they will retain more flavor that way. 
Ingredients
1 lb medium-sized carrots
2 cloves garlic
1 tsp sweet Moroccan pepper or paprika
3 Tbsp wine vinegar
Salt, to taste
2 tsp whole cumin
6 Tbsp olive oil
Chopped parsley 
Method
1

Peel the carrots. Cook in salted boiling water until they are tender.

2

Meanwhile, prepare the vinaigrette. Finely grate the garlic and place it in a bowl with the vinegar, pepper, and salt.

3

Dry-roast the cumin in a small bowl. When the cumin begins to brown and emit a scent, pour it in the bowl and mix well.

4

Add the oil and parsley.

5

Slice the carrots into rounds or sticks when they cool. Add the vinaigrette and blend well.

6

Rest for at least 30 minutes before serving. 
Variation – Cauliflower Zaalouk
Replace the carrots with well-cooked cauliflower. Smash the cauliflower into a rustic purée before adding the vinaigrette. Serve with bread to make a nice hors-d'œuvre dip.