Cooked salad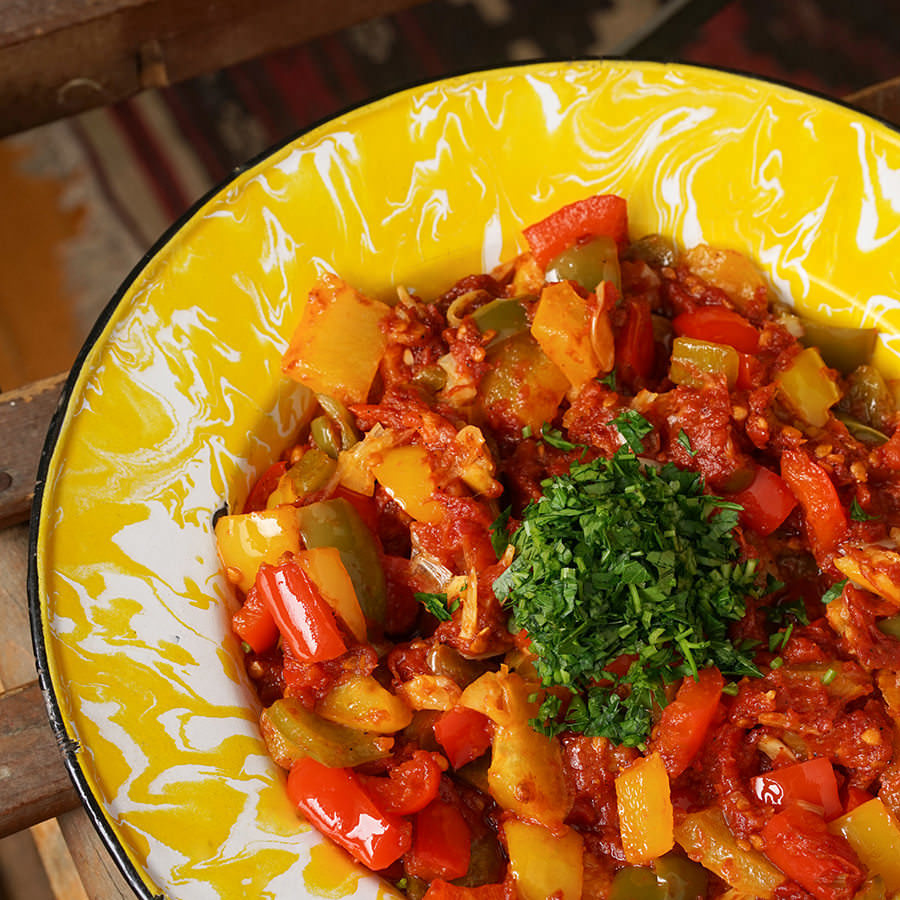 This cold tomato confit salad is usually served as a mezze in North Africa. It's also a great side dish. Choose fleshy, flavorful tomatoes for this recipe. You can also make it with canned or frozen tomatoes, but let them drain in a colander for a few minutes before adding to the pot.
Ingredients
8 very ripe Roma tomatoes
½ cup olive oil
4 cloves garlic, chopped
1 tsp salt
1 red bell pepper
1 yellow bell pepper
½ tsp cumin, ground
1 tsp coriander, ground
¼ tsp caraway, ground
½ tsp Aleppo pepper
Pepper to taste
1 Tbsp preserved lemon, chopped or 2 Tbsp lemon juice
Parsley or cilantro, chopped
Method
1

Blanch tomatoes in boiling water for 1 minute. Cool in cold water and peel. Cut in half and squeeze out seeds. Chop tomato flesh into small pieces.

2

Pour half the oil and garlic in a pot. Heat pot on very low and sofreir a few minutes without coloring. Add the tomatoes and cook until they begin to render water. Add salt; turn heat up to medium and cook gently, stirring on occasion.

3

Meanwhile, seed and dice peppers.

4

When tomatoes begin to dry out and sizzle again (around 1 hour), reduce heat to medium-low and add peppers, spices and 2 tablespoons of olive oil.

5

Continuen to sofreir until you have achieved a good confit (around 1 hour). Add preserved lemon. Pour it all into a serving bowl and let stand at least 2 hours. To serve, pour the remaining olive oil onto the salad and garnish with chopped parsley.