Corn and Edamame Curry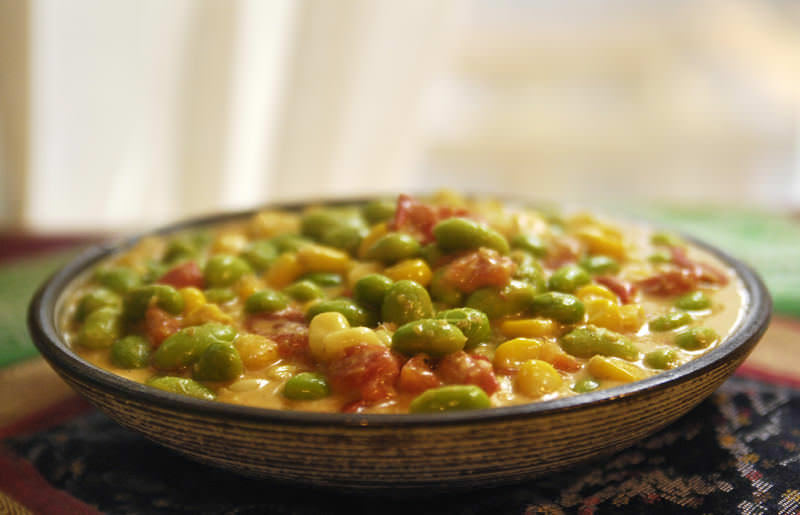 Edamame (fresh soybeans) are both delicious and very rich in protein. This recipe combines the flavors of Indonesia with a classic Indian spice blend. Serve with rice and a sambal or chutney.
Ingredients
2 shallots
2 tsp sambal oelek
1 clove garlic
1 ½ cup coconut milk
4 tsp vegetable oil
2 tsp Satay Spices, ground
2 tsp Madras curry, ground
2 tsp fresh ginger, grated
½ branch lemongrass
1 cup corn kernels
1 piece fresh galangal (optional)
1 cup shelled edamame (fresh soybeans)
2 tomatoes, diced
4 tsp fish sauce
Fresh basil leaves, torn
Method
1

In a food processor, grind the garlic, shallots, sambal and the spices into a course curry paste.

2

Pour the vegetable oil and 6 tsp. of the coconut milk in a large pot.

3

Cook on high heat until the coconut milk separates. Reduce heat and stir until the coconut milk begins to caramelize (2–3 min.)

4

Add the curry paste, lemongrass and galangal. Cook until fragrant (5–6 minutes).

5

Add remaining coconut milk, corn kernels, soybeans, tomatoes and fish sauce to the pot. Simmer (10 min.).

6

Add sugar and salt to taste.

7

Garnish with basil and serve.