Corn Tortilla Soup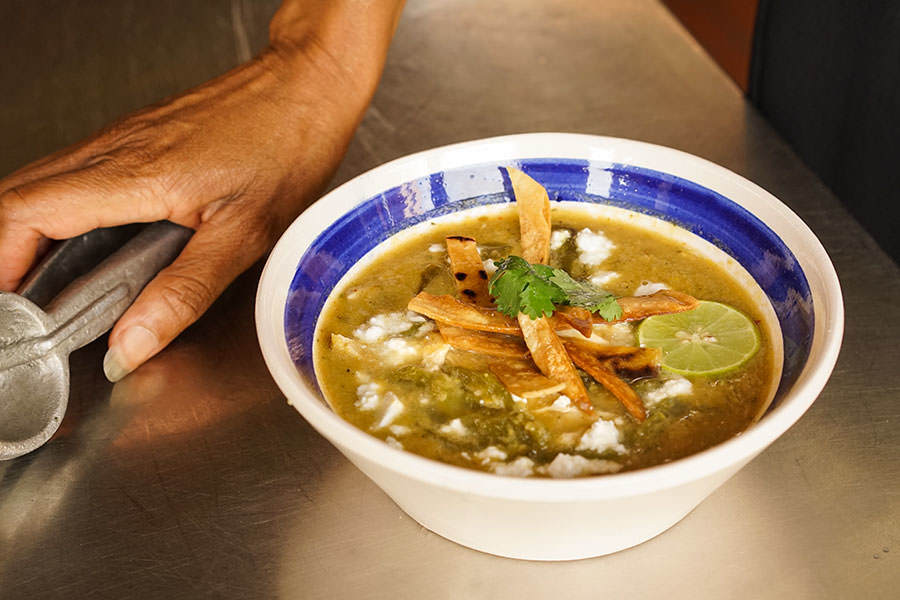 This summer classic is great both blended, for a creamy texture, or left chunky, for a thinner and more refreshing broth.
It's well worth the effort to make a court bouillon corn stock from the cobs. Try it with leftover chicken, beef, or pork!
Ingredients
4 ears of corn, shucked
2 large onions, chopped
1 stalk celery
1 bay leaf
2 large poblano peppers
2 Tbsp vegetable oil
2 cloves garlic, chopped
2 tsp cumin
1 Tbsp Cali-Mex blend, ground
1 tsp salt
1 cooked chicken breast, shredded
Large handful tortilla chips*
2 limes, halved, for garnish
½ cup cilantro, chopped, for garnish
Queso fresco or feta cheese, for garnish (opt.)
Method
1

In a large bowl, cut corn kernels from cobs. Set corn kernels aside.

2

Place corn cobs, 1 chopped onion, celery and bay leaf in a medium pot. Fill the pot with enough water to cover the vegetables (around 4 cups, depending on the size of your pot) and bring to a boil. Skim if necessary, reduce heat, and simmer for 30-60 minutes. Strain and discard vegetables and bay leaf.

3

Meanwhile, roast the poblanos in an oven preheated to 350°F or directly on the stove until blackened. Remove from heat. When cool enough to handle, seed and peel them, then slice into thin strips. Set aside.

4

Add oil to a large pot on medium heat. Add remaining chopped onion and simmer gently until softened, 5-6 minutes. Add chopped garlic and cumin; sauté another minute. Add corn, stir well, and cook for 3-4 more minutes. Add ground spices and salt, and remove from heat.

5

Place contents of the pot into a blender along with some of the corn stock. Blend into a fine purée. Return to the pot, place back on the stove, and add remaining stock.

6

Add shredded chicken and poblano strips. Stir, then turn off heat.

7

Served garnished with tortilla chips, cilantro, and lime. Crumble cheese on top if desired.
*Store-bought tortilla chips work great, but you can also fry your own for a fresher taste. First, cut tortillas into wedges or strips. Pour at least 1 inch of oil into a thick-bottomed pan, heat to 350°F, then add tortillas. Deep fry for 30 seconds to 1 minute, until they are crisp but not brown. Be careful not to overcook: they will continue cooking for a while after you remove them from heat.