Couscous style Boiled Dinner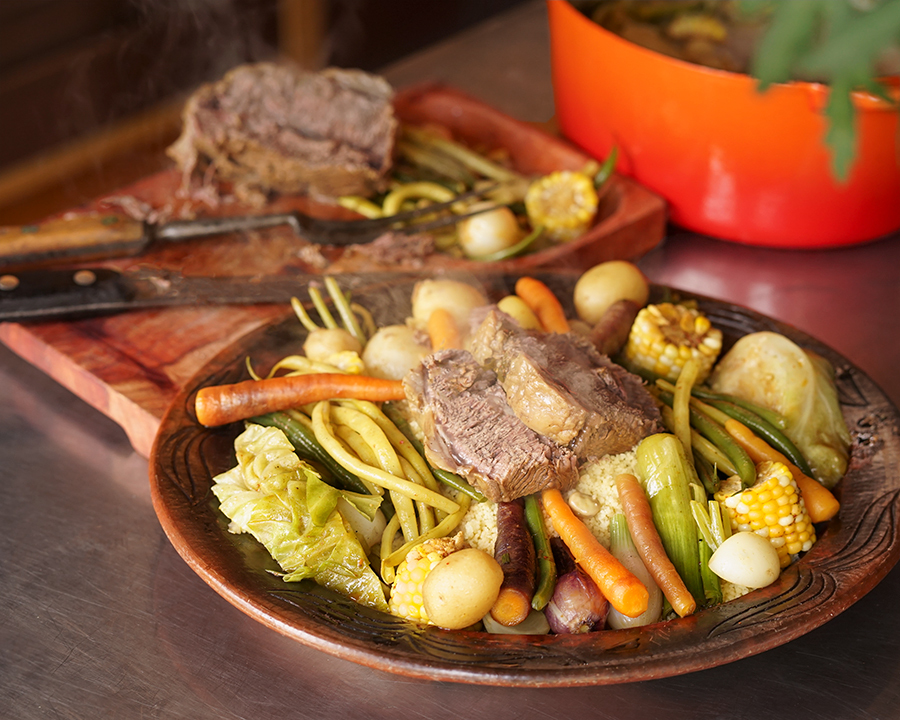 Preparing a good, old fashioned, Québec style vegetable boiled dinner is not that different from making a Moroccan couscous, so we decided to fuse these two emblematic dishes. The choice of vegetables is classic, but feel free to mix things up according to your individual taste or rely on your own family traditions.
Ingredients
1 piece of stewing beef, 3-4 lbs (shank, shoulder or chuck)
4 Tbsp Couscous spice blend, ground 
1 bouquet of parsley
1 onion
3 garlic cloves  
2 Tbsp salt
12 small New Potatoes  
3 celery branches, cut in pieces
12 small carrots 
2 cups Fava beans, shelled
1 small cabbage 
6 small onions, peeled 
1 leek white, in sections 
6 small turnips 
3 ears of corn
1 lb green and/or yellow  beans 
Cooked couscous semolina 
Method
1

Put the beef in a large pot that can accommodate all the vegetables and cover generously with cold water. Bring to a boil, skimming regularly for 15 minutes.

2

Add 3 Tbsp Couscous Spices, the parsley bouquet, onion, garlic and salt. Partially cover the pot and reduce the heat to medium-low. Let simmer for at least 1h30, until the meat is tender; if needed, verify using a small knife. 

3

Remove the aromatics and add the remaining spices, potatoes, celery, carrots and fava beans. Raise the heat a few notches and simmer for 10 minutes.  

4

Cut the cabbage in sections and add them to the pot with the onions, leeks, turnips and cook for a few more minutes.

5

Add the corn and the beans then cook for 5-6 minutes more.

6

Portion the meat and place on a dish with the vegetables. Serve accompanied by the couscous semolina and stock.