Cream of Spinach and Almond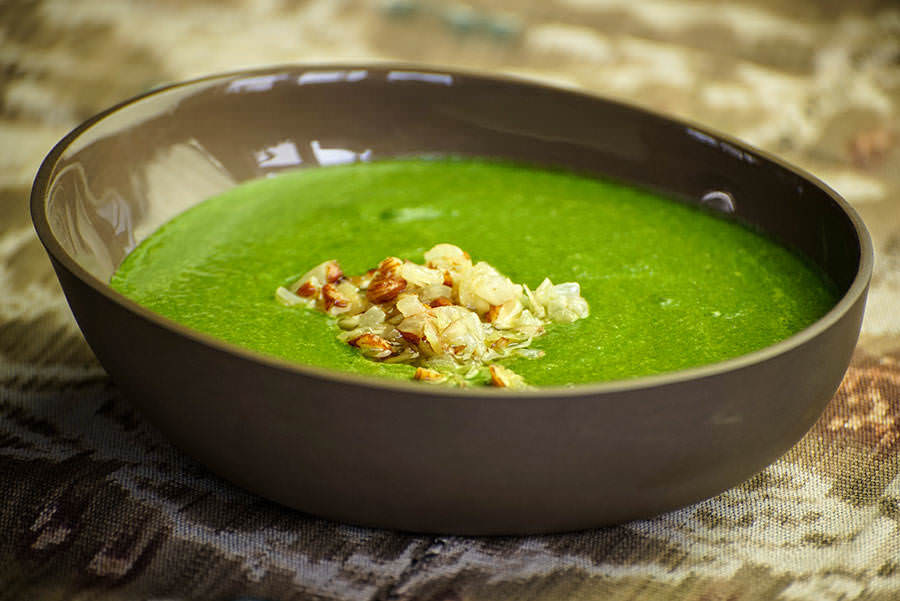 This fragrant soup owes its creamy texture to the puréed almonds. As with all soups, don't neglect the garnishes, which make all the difference.
Ingredients
6 Tbsp coconut oil
4 onions, chopped
1 cup slivered almonds
1 tsp mace, ground
1 tsp fennel seed, ground
1 tsp thyme
12 cups spinach
4 cups chicken stock or water
Salt and pepper to taste
1 tsp Aleppo pepper
4 Tbsp olive oil
1 tsp turmeric, ground
Method
1

2

Pour coconut oil into a pot with onion. Cook on medium for a few minutes until they're a light golden. Add almonds and cook for a few minutes, stirring constantly. Set aside ¼ of the onion/almond mix.

3

Add spices and spinach- well washed and drained. Stir well and sauté 3 more minutes. Add stock, salt and pepper and bring to a boil.

4

Remove from heat and purée until velvety with a stick blender. Add water is soup is too thick. Garnish with a splash of olive oil and reserved onions and almonds. Sprinkle on turmeric for decoration.