Cream of sweet potato with bacon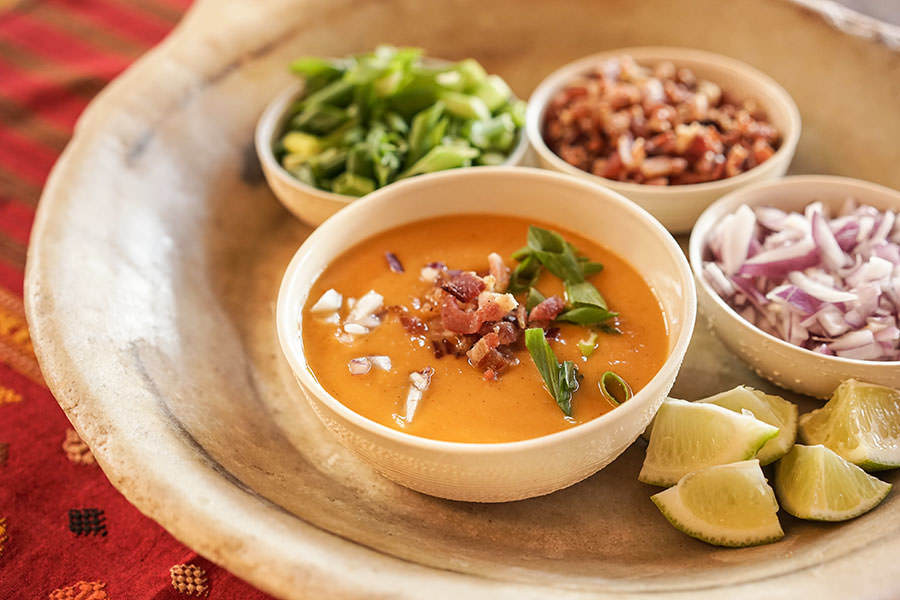 A comforting and flavourful soup.

Ingredients
4 slices bacon
2 Tbsp coconut oil
3 onions, chopped
1 small leek, sliced
4 cloves garlic, chopped
2 Tbsp smoked paprika or Cajun spices
Reshampatti to taste
1 star anise (opt.)
4 cups sweet potatoes, cubed
½ cup white wine
2 cups chicken stock or water
2 cups coconut milk
1 vanilla bean, halved
Salt and pepper to taste
4 Tbsp red onion, chopped
2 scallions, sliced
1 lime
Method
1

In a large pot, cook bacon in coconut oil on medium heat. Remove bacon when it's cooked; set aside.

2

Add onion, leeks and garlic and cook for a few minutes, until the onions are translucent.

3

Add paprika, chile, anise and sweet potatoes. Stir well, add the wine and sautée for 3 more minutes. Add stock, coconut milk, vanilla, salt and pepper. Stir and cook until the sweet potato is tender, about 20-30 minutes.

4

Remove vanilla bean and star anise, and purée until smooth with a stick blender. Add water if the soup is too thick. Serve garnished with bacon, red onion and shallots, accompanied with lime quarters.