Cream Spinach with Crusted Paneer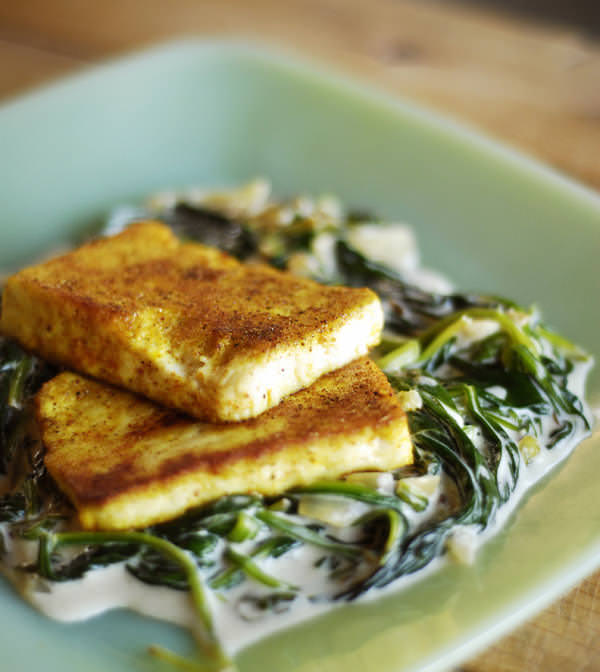 A quick and delicious vegetarian dish. Perfect when paired with Naan bread of a crusty baguette.
Ingredients
3 packs of spinach
4 Tbsp butter
1 large onion
1 Tbsp ginger, chopped
½ tsp cumin, whole
½ cup plain yogurt
4 Tbsp fresh cream
Sprinkle of nutmeg
Salt and pepper, freshly ground
14oz /400gr paneer or Halloumi* cheese
2 Tbsp Imperial Kashmiri curry, ground
2 Tbsp vegetable oil or ghee
Method
1

Wash the spinach very well under running water.  Dry in a salad spinner. Set aside.

2

Heat a large pot on medium heat.

3

Add butter, the onions, ginger and cumin. Cook, stirring occasionally until the onions are soft (5 minutes).

4

Add the spinach and cook until they wilt and begin to boil in their own water.

5

Add the cream, yogurt, nutmeg and salt. Pepper generously, mix well. Set aside in a warm place.

6

Slice the paneer in ½ inch/1.25cm slices. Sprinkle the slices with Imperial Kashmiri curry.

7

Heat a large pan on medium heat. Add the ghee and brown the paneer, one minute on each side.

8

Serve the spinach topped with crusted paneer.